Don't Ignore the Facebook Shareholder Revolt
(Bloomberg Opinion) -- The owners of Facebook Inc. are gathering on Thursday in Silicon Valley for an update from management and their annual vote on corporate matters. We already know the results, but that doesn't make the process irrelevant. In fact, it's time to pay closer attention to the signs of restive shareholders at big technology companies.
First, here's what we all know will happen on Facebook's stockholder ballot, which comes after a tumultuous year in which the company has been accused of harming (political) democracy, fanning ethnic violence and letting people's personal information be harvested by bad actors. All of Facebook's board members will win re-election. The measures submitted by small shareholders will fail. There's no drama, because Facebook Chief Executive Officer Mark Zuckerberg casts the majority of votes thanks to his superpowered stock.
But I expect a significant protest vote on several matters, including a nonbinding recommendation to end Zuckerberg's special stock, which gives him 10 times the votes of regular shareholders. At least two advisers on stockholder election matters, Institutional Shareholder Services and Glass Lewis, have recommended votes for that ballot measure and several others over Facebook's objections.
It wouldn't be the first time that Facebook has been on the wrong end of shareholder elections. Last year, a majority of ballots cast by investors other than Zuckerberg voted in favor of a similar proposal to end Zuckerberg's special control. His shares rendered moot the votes of those other stockholders.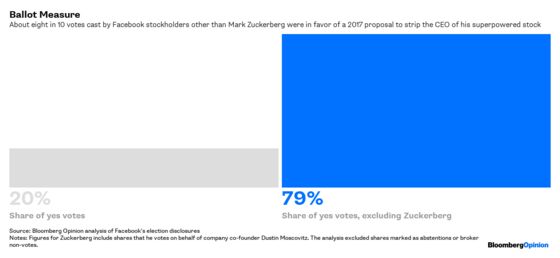 Protest votes by disgruntled tech investors are as common in Silicon Valley as vandalized scooters. Alphabet Inc. last year needed executives' supervoting shares to ensure a nay vote on a proposal to scrap the special stock. Excluding shares held by executives, Oracle Corp. owners have repeatedly rebuked the company in annual elections over compensation for the top brass. Netflix Inc. stockholders have cast ballots that ignored management's recommendations on several matters in recent years. 
To be clear, there's a lot of pointless theater when it comes to shareholder elections. And it's been easy to ignore mostly symbolic protest votes over how big tech companies are run because, well, shareholder democracy is a mirage and most industry giants have posted stellar financial performance. The trappings of good corporate governance tend not to matter unless things are going wrong.
You may have noticed, though, that some things are going wrong in tech. Compounded with the ways tech companies have failed their users, efforts to shrug off the will of stock owners have been icing on a terrible cake.
Zuckerberg is a star, but it may not always be this way. His reputation was tarnished by Facebook's data-harvesting scandal this year, and at least one journalist recently asked Zuckerberg whether he was still the best person to run the company. (Zuckerberg said yes.)
Of course, because of Zuckerberg's supervoting shares, he alone gets to decide who runs Facebook and rule its boardroom. It's fairly common — and lamentably, growing more so — for tech companies' insiders to hold special stock that let them overrule all other shareholders on most matters. For the worst-case effects of giving absolute power to company founders, look no further than the long-running farce at media companies Viacom and CBS — more companies with supervoting stock.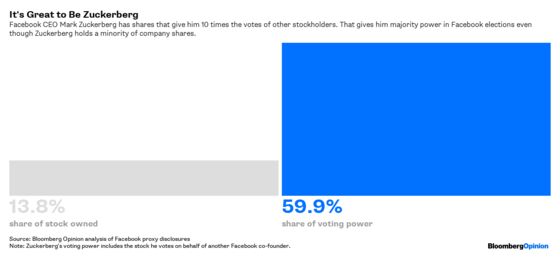 At least so far, Zuckerberg doesn't need to be concerned about losing his grip. He's sold heaps of Facebook stock in the last year to fund his family's philanthropic efforts, but his share of voting power actually increased from 59.7 percent in 2017 to 59.9 percent as of March 31, including shares that Zuckerberg votes on behalf of another Facebook founder. 
The full breakdown of Facebook's shareholder election likely won't be released for several days, but it's already clear that stock owners of big tech companies won't rubber-stamp everything management wants. There's broad agreement now that the digital hangouts owned by technology superpowers need to be under a more-watchful eye. Likewise, their boardroom behavior needs the kind of scrutiny that empowered stock owners are supposed to provide. Those meaningless shareholder elections should and do matter.