U.S. Stock Investors Keep Stumbling Into a World of Hurt
(Bloomberg Opinion) -- It's often said that the stock market and the economy are not the same thing. These days, though, the U.S. stock market seems more connected than ever with the global economy, perhaps even more so than with the U.S. economy. The question is whether that makes sense.
More evidence of the U.S. stock market's dependence on the global economy surfaced on Tuesday, with the Dow Jones Industrial Average falling nearly 400 points. The S&P 500 Index lost 1.2 percent, its worst day in a little over a month. The impetus for the sell-off was political instability in Italy, bringing renewed fears about some sort of European Union exit — Italeave, or Quitaly — as well as renewed signs that President Donald Trump's trade war with China could be back on. The White House said on Tuesday morning that it would proceed with its proposed 25 percent tariff on $50 billion worth of Chinese imports. Prominent economist Carmen Reinhart warned at a conference over the weekend that the strength of the global economy had become overstated recently.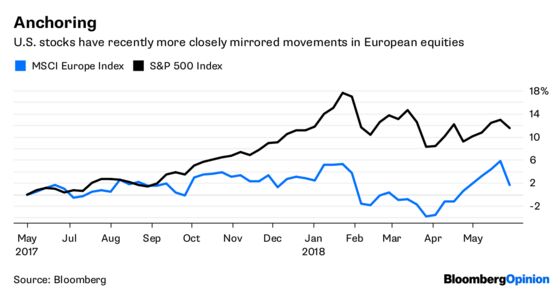 As they did in late March, when the China tariffs were first proposed, investors seem to be overreacting to global economic woes. U.S. exports to the entire European Union last year amounted to nearly $300 billion, or about 1.5 percent of U.S. gross domestic product. And Italy is just a portion of that, and far from the largest. Banks were among the worst hit stocks on Tuesday, in part because an EU breakup would do a fair amount of damage to the global financial system. But there, too, the reaction seemed overblown. Morgan Stanley fell the most among U.S. banks, down nearly 6 percent, just as it did in 2011 at the height of the European financial crisis. But Morgan Stanley has cut its loan exposure to Europe since then. Also hurting bank stocks were comments by numerous bank executives at an investor conference that second-quarter trading revenue has been softer than expected.
And the sell-off in stocks seems particularly odd given that the outlook for the U.S. economy and corporate profits is brighter than it has been in years. Credit Suisse, for instance, on Tuesday raised its estimates for S&P 500 profit growth to nearly 19 percent this year from an earlier estimate of around 16 percent.
The problem is that while the U.S. economy isn't dependent on the rest of the world, future profits for the S&P 500, made up of multinationals that get almost half of their revenue overseas, are. On top of that, James Paulsen, a strategist at the Leuthold Group, said last week that a pickup in exports was baked into into U.S. profit expectations. It takes a while — Paulsen said two years — for movements in the dollar to translate into higher or lower sales abroad. The dollar peaked in late 2016. Paulsen said that means the trade stimulus for U.S. corporate profits was expected to materialize later this year. But Trump's threatened tariffs and the fact that the dollar has been rebounding lately could upset that.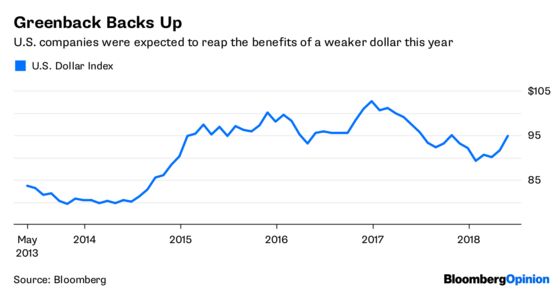 But the biggest issue is how economic problems abroad, particularly in sovereign debt markets, influence U.S. Treasuries. Recent worries have pushed U.S. 10-year bond prices up and yields down to just below 2.8 percent after they climbed above 3.1 percent in the past month. The stock market was worried about that rise, but it seemed to indicate a healthy economy. The drop does not. Flat yield curves, and particularly inverted ones, typically signal slower U.S. economic growth and lower bank profits in particular.
Psychology appears to be more at play than fundamental forces. Banks, at least so far, have not had to pass along higher short-term rates to depositors, allowing them to bolster profits even as the spread between short- and long-term rates shrink. What's more, falling long-bond yields could be a good thing for stocks if it gets Federal Reserve policy makers to hold off on some of their interest rate increases.
The problem is the longer the rocky stock market continues, the greater the chance psychology has to become destiny. Like it or not, investors have to learn there's always a world of trouble at the door; they don't have to let it in every time it knocks.