Pokemon Crossing Platforms Will Make Nintendo Really Go
(Bloomberg Opinion) -- Two years after Pokemon Co.'s summer smartphone hit Pokemon Go had fans chasing mythical creatures around the world, a new round of games is set to be released.
Shares in Nintendo Co., which is a shareholder of Pokemon Co., jumped as much as 3.5 percent in early Tokyo trading Wednesday. That's tamer than the famous 25 percent spike of July 11, 2016, but shows how investors view this latest announcement.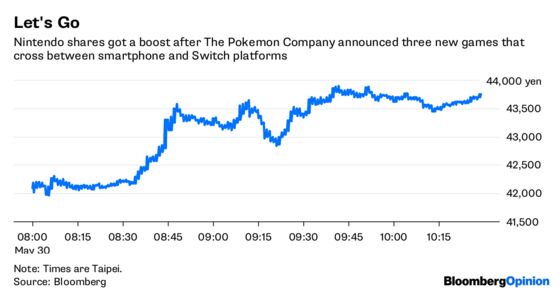 Three new Pokemon titles will be introduced for Nintendo's Switch console later this year. Among them, role-playing game Pokemon Quest will be available not only on Switch but also for mobiles. Remember that Pokemon Go's huge success was thanks to it being available for smartphones, and thus not requiring a proprietary piece of hardware.
Making money proved a greater challenge. Two other titles will now allow crossover with the smartphone game – Pokemon that are caught in Pokemon Go can be transferred to the Pokemon Let's Go titles on Switch.
Offering games that straddle both devices should help lure more consumers into the Switch ecosystem, where monetization is easier than freemium mobile offerings like the original Pokemon Go. One of the smartest aspects of Wednesday's announcement is the introduction of the 4,980 yen ($46) Pokeball, an accessory for the Switch that mimics an important component of gameplay (it's used to catch and store Pokemon).
In theory, owners of accessories are more likely to pay for further games and in-game items. While Pokemon Go and even Super Mario Run can be considered one-hit wonders, this cross-platform strategy and accessories could be just what Nintendo and Pokemon Co. need to secure ongoing revenue.