Italy Needed a Bond Victory. It Got a Whimper
(Bloomberg Opinion) -- This wasn't good enough. 
Wednesday's Italian government bond auction needed to go well to settle some seriously frayed nerves. And, with the highest demand ratio for the 10-year slug this year, it certainly wasn't a disaster.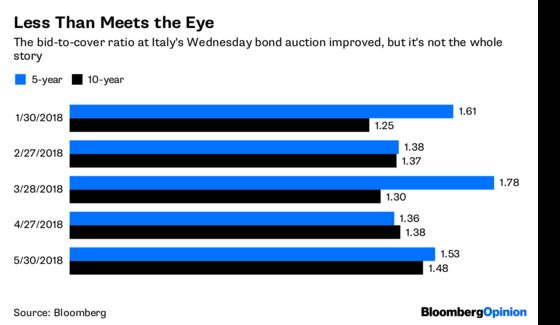 But the bid-to-cover ratio is far from the only important metric for assessing if Italy's bonds are out of the woods. A lot of other elements of the auction show that this is very far from a turning point in the crisis.
For one thing, investors didn't buy all of the notes that were initially available for sale. Italy had initially planned to sell 5.75 billion euros ($6.7 billion) for the regular five- and 10-year tranches (it also sold a floating-rate note). It pared the amount on offer to a target of 4 billion euros on Friday, and actually only sold 3.6 billion euros. So this is one reason why the demand ratio was so good — and also a worrying sign.
And, although average yields were down from peaks seen on Tuesday, they were also substantially higher than at last month's auction. It's the opposite of a clear vote of confidence.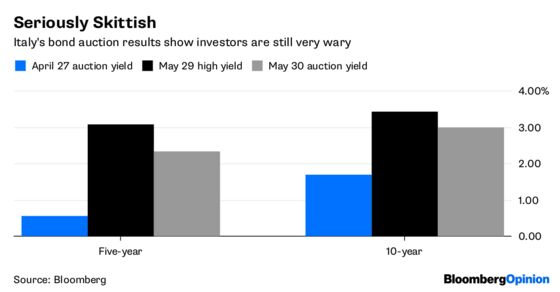 Perhaps worst of all was the underbidding on the 10-year. The government accepted a 25-cent discount to the prevailing price at the auction deadline. That goes a long way toward explaining why the final issue size shrank — Italy only issued 1.82 billion euros of the security, versus the 2.25 billion euros maximum available.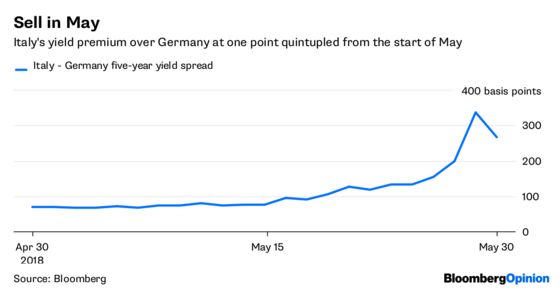 It could have gone much better. There should have been a big help from the 20.8 billion euros of maturing bonds and coupons this week — typically, such funds coming out of the market are reinvested right back in. There are a huge amount of bonds rolling off this month, and this will push the average duration of Italian debt in major bond indexes up by 0.1 year — it is the largest duration extension of any major European government issuer this month. Investors who want to maintain their Italian weighting next month will need to buy more of the country's longer-dated debt. 
But it seems investors prefer to wait until the political storm has subsided.
This auction offered a great opportunity for speculators to show that the Italy sell-off was overdone. It turned out that only those buyers who had to turn up did so. It's great that Italy is still able to get a debt sale away in the first place, and the signs of improvement are welcome. But it isn't a reason to sound the all-clear. This one ain't over yet.