Pharma's Biggest Dealmakers Face More Than M&A Risks
(Bloomberg Opinion) -- The age of gene therapies — medicines that work by altering human genes — is arriving, and with it, the potential for curing diseases with one-and-done treatments. But parts of the pharma world, including some of this year's biggest dealmakers, are better suited to living in the past.
The Food and Drug Administration approved the first gene therapy in the U.S. late last year to treat a form of inherited blindness, and it's already helping kids who might otherwise go blind see better. A number of other promising remedies are speeding to market, with FDA Commissioner Scott Gottlieb specifically singling out hemophilia treatments as a priority earlier this month in a series of tweets.
Hemophilia has already attracted a large crop of gene therapy-focused drugmakers including Spark Therapeutics Inc., BioMarin Pharmaceuticals Inc., uniQure NV and others. That's mostly because the drugs patients take to prevent and treat the bleeding disorder have annual price tags that can surpass $500,000, and sometimes have to be infused multiple times a week. It is currently a $10 billion-a-year market, so there's a compelling commercial opportunity and a ready-made strategic advantage in being first to win approval for a gene therapy.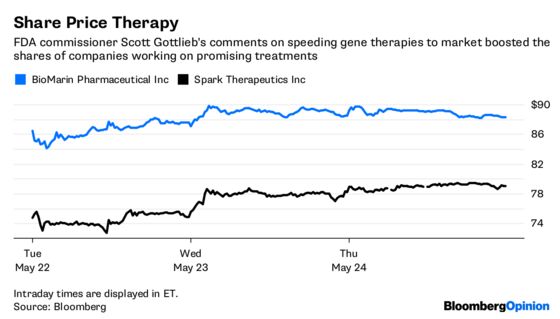 With the hemophilia market set for disruption, it's interesting to note that the two biggest biopharma deals of this year — Takeda Pharmaceutical Co. Ltd's $62 billion purchase of Shire PLC and Sanofi's $11.3 billion purchase of  Bioverativ Inc. — involved companies heavily or entirely focused on traditional treatments for the disease. As if M&A integration risks weren't enough, a competitive threat now looms to challenge the financial assumptions on which the deals were struck.  
Shire and Takeda are in the biggest trouble — hemophilia medicines accounted for a quarter of Shire's revenue last year. The drugmaker already faces near-term erosion as a newer treatment from Roche Holding AG gains traction. An approved gene therapy in the space would only worsen the situation. Among other drugmakers, smaller CSL Ltd. will see about 15 percent of its revenue become much riskier. And Sanofi's buyout of Bioverativ Inc. could look bad very quickly.
It will be a while before hemophilia gene therapies hit the market. Companies still have to complete final stage trials, prove that these drugs continue to work years after being administered, and convince insurers to take a longer-term view than is their custom. It could be 2021 before a gene therapy wins FDA approval. But given the number of treatments in development and the agency's attention, incumbents are unlikely to remain unscathed. 
Shire and Sanofi are working on hemophilia gene therapies. But they are very late, and are unlikely to get to market in time to secure a large share or ameliorate the damage to their existing drugs. Both firms seem to be making a bet with a lot of downside potential that gene therapies will be late to arrive and slow to be adopted.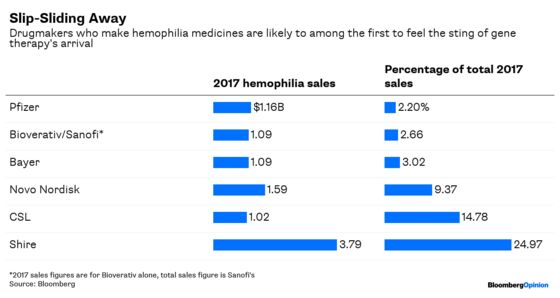 Complacency is also an issue: Sanofi is still developing medicines that seem likely to be replaced by gene therapies in areas beyond hemophilia.
The gene therapy threat is only going to get bigger going forward. Over time, these treatments will become safer, more effective, and more broadly applicable. Gene-editing technologies being tested by companies like Sangamo Therapeutics and Crispr Therapeutics AG could speed up that process. Insurers will get comfortable with the drugs, and figure out how to pay for them.  
Just hoping for setbacks is a bad strategy now, and will become a worse one in the future.