Bill Gross Was Wide Awake During His Nightmare
(Bloomberg Opinion) -- Bond guru Bill Gross had a really bad day on Tuesday. In fact, it was the steepest loss for his $2.1 billion Janus Henderson Global Unconstrained Bond Fund since its inception in 2014.
And, on the face of it, that's fine —  all investors have their victories and setbacks. But what's strange is that Gross seemed to be positioned against his own advice and suffered greatly because of it.
Some numbers just jump off a screen, and an effective duration of minus 4.58 years certainly qualifies. Usually a positive number, duration measures the gain or loss for a given move in bonds. In Gross's case, an increase in yields would net a substantial profit. It boils down to a big bet against the overall market. (For context, the Bloomberg Barclays U.S. Aggregate Bond Index has a duration of more than six years.)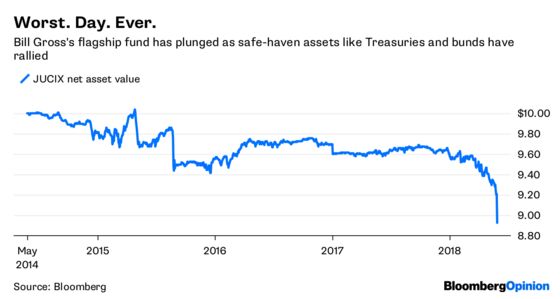 Sure, Gross made headlines by calling the start of a bond bear market in January, when the 10-year Treasury yield broke through 25-year trend lines. But ever since, his public comments sounded as if he was walking that back, all the while apparently taking his duration down even further. Though the figure is as of April 30, the 3 percent drop in his fund suggests it hasn't radically changed since then. His fund is down 5.9 percent for the year, according to data compiled by Bloomberg.
Here are just a few of his statements, from the Janus Henderson U.S. Twitter account, his investment outlook and interviews:
Jan. 29: "As predicted weeks ago bonds are now in a bear market. You should expect, however, for only gradual increases in 10yr yields from here. Perhaps 2.90% by year-end 2018."

Feb. 2: Bond bear market will be "relatively mild."

March 22: "Investors should therefore look for 3% plus or minus on the 10-year for the balance of 2018. That level should ultimately force German Bunds and UK Gilts to higher yields, perhaps 1% on Bunds and 1.75% on Gilts. Still, in my mind, this is a hibernating global bear bond market, not a beast."

May 2: "Supply from the Treasury is a factor in addition to what the Fed might do in terms of a mild, bearish tone for U.S. Treasury bonds… I would expect the 10-year to basically meander around 2.80 to perhaps 3.10 or 3.15 for the balance of the year. It's a hibernating bear market, which means the bear is awake but not really growling."
As a reminder, the 10-year Treasury yield crossed 2.9 percent in mid-February, broke 3 percent in late April and peaked at 3.126 percent on May 18. Given that movement, and his comments, how does that justify a massively negative duration? (Note: some of the fund's performance may have also been tied to bets against bunds; the German 10-year yield fell to an 11-month low on Tuesday.)
Even Franklin Templeton bond chief Michael Hasenstab, who says the 10-year Treasury yield can reach 4 percent, isn't so gutsy. His $38.2 billion Templeton Global Bond Fund had an average duration of minus 0.85 years as of March 31, a record low. He said earlier this month that he's "comfortable with where it is."
As he should be. The cost of being short the bond market is high, regardless of whether it moves against you, as it did on Tuesday. That's because investors effectively give up some income —  or "carry," as some call it — which is a crucial component of their total return. There's a reason the aggregate U.S. bond index has posted only three annual losses since the 1970s.
Gross also relies in part on selling the equivalent of insurance against big market moves, which isn't exactly a winning strategy when volatility climbs. And that probably added to the fund's losses. But at least it makes sense in the context of his mild bear market call. He declined to comment to Bloomberg News on the performance.
In the end, he's mostly hurting only himself. Almost $700 million in the Janus unconstrained fund was Gross's personal money as of June 30, 2017, according to filings.