Botox Maker's Puny Disposals Wouldn't Move the Needle
(Bloomberg Opinion) -- "Bold" is Allergan PLC's adjective of choice, trotted out frequently by CEO Brent Saunders and others at the Botox maker. Too bad the potential sale of its women's health and antibiotic units, reported initially by CNBC and confirmed by the company Wednesday, doesn't quite qualify.  
In a vacuum, it's a fine enough move. It would streamline the company and could net a bit of extra cash. But like the Coolsculpting fat-freezing technology Allergan bought last year, it would be more of a minor procedure than major surgery. The fact is, Allergan has deeper problems than asset bloat, and if this is all that comes out of the drugmaker's promised strategic review, it won't be nearly enough to satisfy angry investors and possible activists.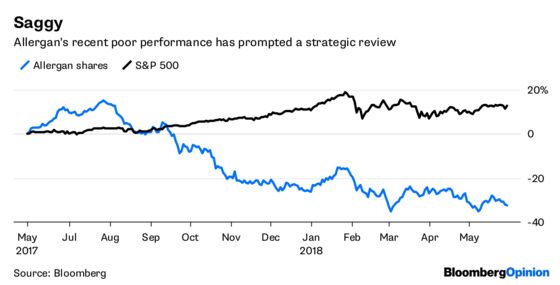 The two business units accounted for a meager 6.4 percent of Allergan's revenue in the first quarter, and combined sales from the divisions were down more than 20 percent from the same period a year earlier as generic competition hit  women's health. Getting rid of them isn't going to substantially shift Allergan's trajectory.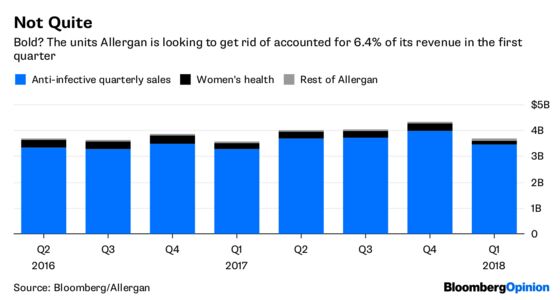 Disposing of  two minor units won't address broader concerns that have seen Allergan's shares decline by more than 40 percent from last year's highs. The company would still remain a somewhat jumbled collection of assets — and Allergan has never made an entirely convincing case to justify why Botox, fat-freezing, and Alzheimer's drug development should be under the same roof.
Botox has been a seemingly invulnerable growth franchise, but competition is heating up and potential rival treatments loom for both migraine-afflicted and wrinkly patients. Elsewhere, the drugmaker's near-term growth trajectory is grim as several important drugs are getting battered by generic competition. And it won't get all that much help from new medicines as uncertainty and poor results dog its drug pipeline.
If Allergan does manage to divest these units at an attractive price, it can't hope for much more than $4 billion to $5 billion in proceeds, and may net even less. Then there's the question of whether the company can be trusted to use that theoretical cash well.
Allergan certainly hasn't created much in the way of growth or shareholder value from the $33 billion in cash it received from selling its legacy generics unit to Teva Pharmaceutical Industries Ltd.  In a recent note to clients RBC Capital analyst Randall Stanicky highlighted Vitae Pharmaceuticals Inc., Tobira Therapeutics Inc. and Kythera Biopharmaceuticals Inc. as Allergan acquisitions that have recently disappointed investors.
Putting minor assets on the block is easy. Selling them at a good price will be tougher. But Allergan doesn't seem to have a plan yet to deliver what investors actually want: tangible pipeline success, consistent financial performance, and proof that it can invest effectively.