The ECB Fiddles as Rome Burns
(Bloomberg Opinion) -- The European Union faces another existential crisis, and the European Central Bank will need to do whatever it takes to stanch it again. So far, it's showed little inclination. By letting the turmoil continue, it risks creating a full-blown conflagration.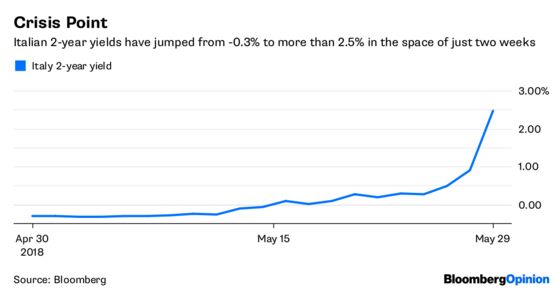 Investors are taking fright at the threat that Italy could leave the euro. Yields on the country's two-year bonds have surged to more than 2.5 percent from minus 0.3 percent less than three weeks ago. The extra premium investors demand to hold Italian bonds over their German counterparts has jumped to the highest since 2013.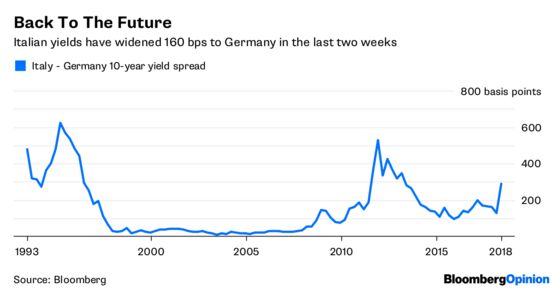 The contagion is starting to spread to Portuguese, Spanish and Greek government bonds. Yields on the latter's 10-year securities have surged 75 basis points this month — a move that, if continued, could put at risk Greece's smooth exit from its latest bailout in August.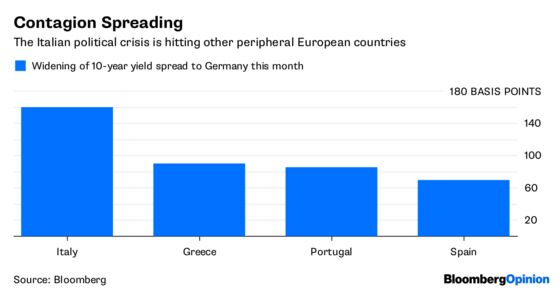 If all this seems eerily like the sovereign debt crisis of 2011-'12, that's because it does. Only the stakes are higher, given the size of Italy's debt. Mario Draghi was able to stem the first crisis by promising — with the implicit support of Germany — to do "whatever it takes" to save the euro. Since then, the ECB has amassed almost 2 trillion euros ($2.3 trillion) of European government bonds on its balance sheet.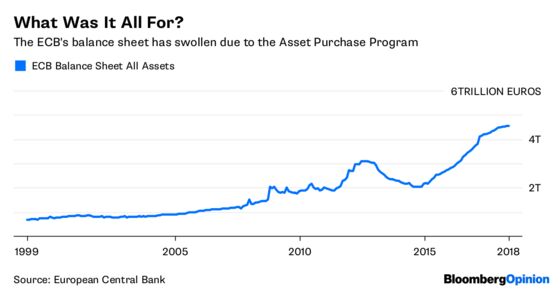 Contrast that action with outgoing ECB Vice President Vitor Constancio's comments on Tuesday that "we will see what happens." Bank of Italy Governor and ECB governing council member Ignazio Visco has added fuel to the fire by saying Italy is always a "few short steps away" from losing trust. We are on that precipice now.
The best place to start may be those short-dated Italian bonds. The balance of supply and demand tilts should help. The country only has about 8 billion euros of two- to three-year bonds to sell in 2018. More than 20 billion euros of redemptions and coupons will be paid back this week, more than outweighing the 6 billion euros of medium- and long-dated securities that will be sold on Wednesday. It's a similar picture for the rest of the year. Ninety-six billion euros of issuance will be outweighed by a further 135 billion euros of maturities. With that cash flow, Italy could well buy back its own bonds.
The ECB has committed to reinvest its maturing government bonds. Until September at least, it is also committed to buying 4 billion euros of Italian bonds a month. And it can overbuy — as it often has in the past two years.
It's highly likely the ECB will have to delay any debate about how it will end quantitative easing. The bond-buying program, due to end in September, will surely have to be extended, and the prospect of QE continuing into 2019 now looks a real possibility.
It is well within the ECB's capacity to contain this crisis using its existing capabilities. And Draghi has shown considerable creativity in inventing new financial tools like Outright Monetary Transactions to combat previous stresses, even if they were never used in anger. But by making a political point and holding back from overt support for Italy's bond market, it has lost control. Time is of the essence to recapture control. If there is the will, there is certainly the way.