Sky Might Not Get Its Fairy Tale Ending
(Bloomberg Opinion) -- An auction of two is one drop-out from being no auction at all. Just look at Sky Plc. The British satellite broadcaster has rival suitors in Twenty-First Century Fox Inc. and Comcast Corp., with a potential backup in the form of Walt Disney Co. But there's still no guarantee that a bidding war will ensure Sky fetches a full price.
The auction for Sky could fall down in several ways. Rupert Murdoch-controlled Fox could be blocked by U.K. regulators. Alternatively, Murdoch could change his mind about his December deal to sell most of Fox's assets to Disney, and instead team up with Comcast, which says it's preparing a better offer. Then Comcast and Fox would become partners instead of rivals for control of Sky.
In either scenario, Sky investors would hope that Disney steps in and prevents Comcast being left sole bidder. But that's not certain. For starters, Disney is a concert party with Fox in relation to Sky. U.K. M&A rules suggest it could bid for Sky only with the target's approval if Fox's takeover attempt fails. Sky's board could then name its price – not an attractive starting point for Disney to enter the fray.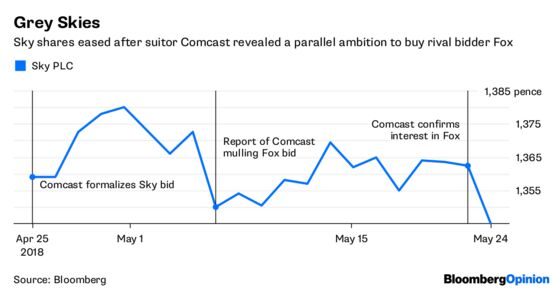 What if Comcast and Fox become buddies? Comcast would stand to inherit Fox's existing 39 percent holding in Sky. For Disney, the risk of never getting to 100 percent would be a concern even if it could land a controlling stake.
Comcast's 12.50 pounds a share offer for Sky – worth 22 billion pounds ($29 billion) – is in the lead right now. The possibility that no one trumps it means Sky shareholders must ask what sort of premium this really contains.
In December 2016, just before Fox pounced, Sky stock languished at 7.90 pounds, a lowly 12.4 times the next 12 month's forecast earnings. This was despite management having spent a day with investors talking up Sky's prospects.
The trading value today would be higher for sure. From its 2020 fiscal year, Sky reaps the benefits of an excellent deal for top English soccer rights. Earnings are expected to be 80 pence per share. Assume a slight recovery in the multiple to 13.4 times, discount back to today and that crudely points to about 980 pence a share as a ballpark standalone value. Comcast is then offering a near-30 percent top-up.
Sky's shares have sagged from around 13.75 pounds to close to 13.50 pounds since Comcast's interest in buying most of Fox leaked earlier this month. Comcast could almost certainly make satisfactory returns with a deal at that level, based on some analysts' forecasts for the synergies it would reap. Sky offers both Comcast and Disney a unique platform to grow outside the mature U.S. pay-TV market. They should force each other to pay up. If not, it will be up to Sky shareholders to hold Comcast's feet to the fire.