Samsonite Looks Like a Tempting Target for Shorts
(Bloomberg Opinion) -- However you regard the veracity of a short-seller's allegations against Samsonite International SA, one thing is certain: Targeting a Massachusetts-based firm with a wide shareholder base seems to be a much a safer bet than going after the hordes of opaque Chinese companies in Hong Kong.
The baggage company, whose hard-shell suitcases recall the glory days of flying, has become the first intended prey of Blue Orca Capital, a short-selling research company recently established by Glaucus Research co-founder Soren Aandahl. 
Many of the issues underlined in Blue Orca's 48-page report – from Samsonite's accounting treatment of acquired assets and inventories, to related-party transactions with Indian entities owned by the family of Chief Executive Officer Ramesh Tainwala, to questions about Tainwala's resume – will require answers from management. The activist also says the luggage brand is trading at luxury valuations, despite being a heavy discounter. Samsonite's main response last week was that Blue Orca's report was one-sided and misleading. 
The stock was halted May 24 in Hong Kong after the Blue Orca position was disclosed, then began falling Friday before being halted again Monday. The stock was still suspended Tuesday, and a statement was awaited from Samsonite. Not surprisingly, short interest has surged.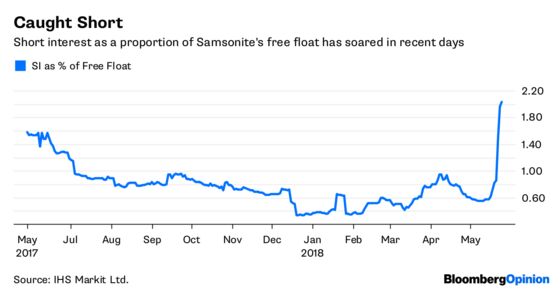 Much of last year's Hong Kong short-selling centered on debt-laden Chinese firms. Glaucus had successes with China Metal Recycling Holdings Ltd., consigned to the scrapheap when it was delisted in 2015, and Tech Pro Technology Development Ltd., which tumbled 86 percent in one day after a Glaucus report in July 2016. Carson Block's Muddy Waters Capital LLC was also vindicated when it targeted China Huishan Dairy Holdings Co last year.
Samsonite is a different story: The firm is American, not Chinese, and while Asia accounts for a large chunk of revenue, North America is still big. In other words, it doesn't have the natural Chinese base or analyst support of an H-share with the bulk of its revenue from the mainland. And because it lacks significant operations in Hong Kong and China, the stock isn't part of the Connect trading pipes that link Hong Kong with the Shenzhen and Shanghai stock exchanges.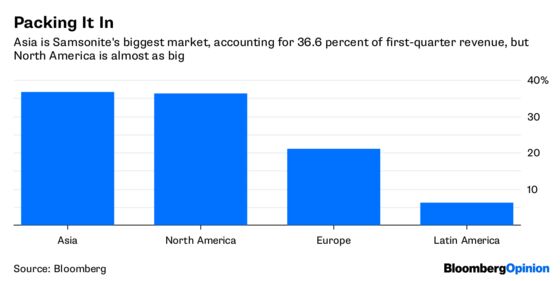 A mainland edge can be a disadvantage for a short-seller, as Aandahl found with his last Hong Kong target. Fullshare Holdings Ltd. "was poised to crash," Glaucus said in a report in April 2017. But buying of the real estate developer by mainland investors through the Connect, and a rescue by state-owned China Citic Bank Corp., put paid to that strategy. 
The prevalence of dominant shareholders in many Hong Kong listings can also hurt shorts, as some found when they bet against Hui Ka Yan's real estate giant, China Evergrande Group, last year. Hui's 71 percent stake in the company, and a band of allies that kept buying when the shares fell, made shorting a painful game. Companies in which a small group of investors dominate trading are hard to short because the limited free float makes the stock difficult to price.
Samsonite, in contrast, has a much more widespread ownership base. Its biggest shareholder, Capital Group Companies Inc., one of the world's largest investment firms, holds just 12 percent. 
As one of a handful of foreign companies (including Prada SpA) listed in Hong Kong, Samsonite doesn't have the local connections to send enemies packing. It does have another ace to play, though: The luggage maker is based in a much more litigious jurisdiction, and says it reserves the right take legal action. This might be no pushover.