Roseanne Gets the Boot. If Only It Were That Easy
(Bloomberg Opinion) -- Walt Disney Co. has enough headaches. So to shut down one of its hit shows when networks are struggling to attract viewers isn't easy, but as CEO Bob Iger said, "There was only one thing to do here."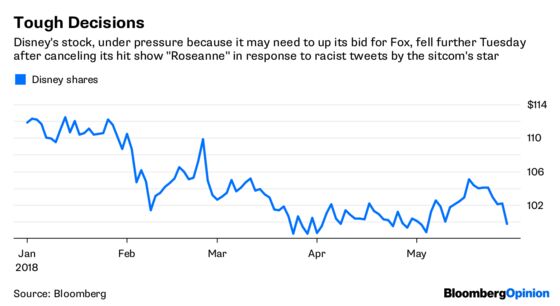 Disney's ABC division canceled "Roseanne" on Tuesday after the star of the 1990s revival, Roseanne Barr, tweeted racist remarks earlier in the day about Valerie Jarrett, a former adviser to President Barack Obama. The Donald Trump supporter has come under criticism before for helping to spread conspiracy theories online, including one on Tuesday — yes, Barr did lots of tweeting Tuesday — that Chelsea Clinton is married to a nephew of the billionaire liberal political donor George Soros. (She apologized to Clinton for the misinformation via a tweet, but capped it off with another falsehood about Soros that's used by the far right.)
For ABC, the racist and viral nature of Barr's tweet about Jarrett was the final straw, as Barr's own cast members also rebuked her words. Disney and ABC's response was swift, and it came on a day when another giant of corporate America did what it saw as its part to take a stand against racism. Starbucks Corp. closed about 8,000 company-owned stores for several hours to hold anti-bias training for employees, following the backlash from the incident last month when a manager at one of its eateries in Philadelphia had two black men removed and arrested while they were waiting for a friend. 
The actions by Disney and Starbucks are costly for their businesses and go much further than a carefully worded press release. As a media giant whose content helps form our opinions about the world, and as an omnipresent coffee chain that marks a morning pit stop for so many, it's good that they're willing to take on the mantle of leadership in this area at a time when it seems so lacking.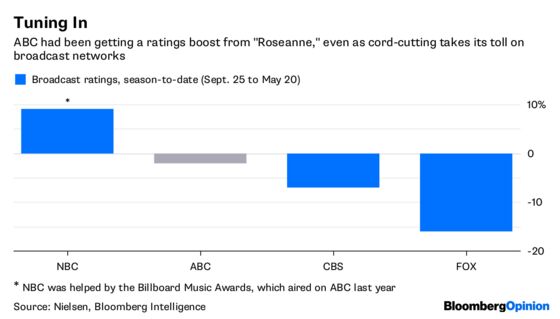 Still, while canceling "Roseanne" was a necessary response, it isn't a solution. The pro-Trump bases will view the move by Disney and ABC as censorship, which will only serve to further rile them up against what they see as the elite liberal media. It also doesn't take back the misinformation that Barr, a celebrity with millions of fans, helped circulate. It's already out there.  
This isn't the first time Disney finds itself in politically volatile territory. It owns the studio behind "Black Panther," this year's No. 1 film, which features a black superhero and which drew attacks from the far right. The company also owns ESPN, a frequent target of the far right and among the networks that felt the pain of weaker NFL ratings, as some players kneeled during the national anthem to protest police brutality and racism. 
Disney is having a rough month for other reasons — and I'm not just talking about "Solo." A deal with 21st Century Fox Inc. that Disney thought was ironclad is being threatened by Comcast Corp., which says it plans to counterbid for the more than $50 billion of TV and film assets (excluding the news business) that Fox was planning to sell to Disney. At the root of this transaction is the wave of cord-cutting and TV-ratings pressure that network owners such as Disney are grappling with. After all, just last week Netflix Inc. unseated Disney and Comcast as the most valuable media company in the world. 
A key facet of the Disney-Fox transaction was that it only involved swapping stock and wouldn't technically require the company to borrow any additional money, preserving its balance sheet for future expansion needs. But now Disney is reportedly considering adding cash to its offer to stave off Comcast and win over Fox's shareholders. Disney can afford to do so, it's just less than ideal. Then there's the irony that we're talking about negotiations with Rupert Murdoch's Fox, home to the outlet that serves to frequently fire up Trump's base against other mainstream media. 
I don't want to sound cynical or disregard Disney's commendable decision to split with a TV star despite what it means for its bottom line. But the problem is so much bigger than Roseanne Barr and a Philly Starbucks worker. Racism and conspiracy theories have been made socially acceptable, and social media makes it harder to separate truth from lies, especially when some of the misinformation and hateful rhetoric is coming from or seemingly being condoned by the highest form of office. In this toxic environment, corporate leadership can only go so far.