Gasoline Speculators Are a Little Too Pumped
(Bloomberg Opinion) -- Even before Saudi Arabia and Russia sounded the signal for last week's sell-off in oil, hedge funds were already backing away. Long positions in three large crude-oil contracts fell in each of the five weeks ending May 22, data from the Commodity Futures Trading Commission show, and are now 136 million notional barrels below the peak reached in late March. Meanwhile, short positions have expanded by almost 50 million barrels in that time: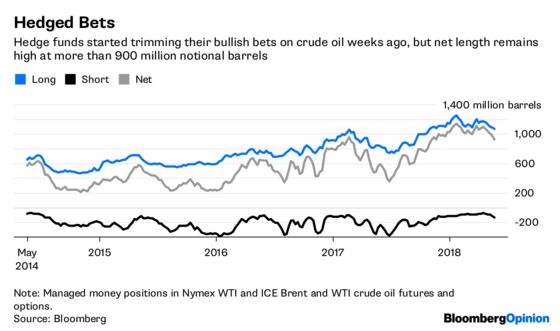 Still, while some of the froth has been taken out of the market, hedge funds remain very long compared to history. And nowhere is that more pronounced than in another corner of the oil market: gasoline futures.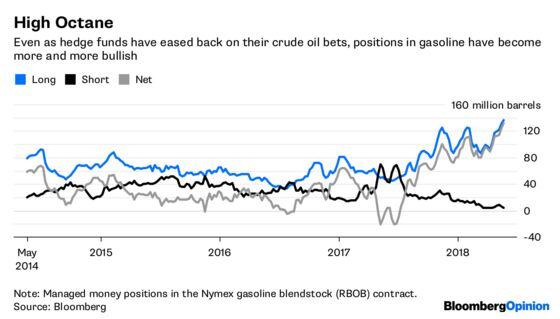 The bullishness in gasoline relative to crude oil is even more stark when you consider the ratios of long positions versus shorts: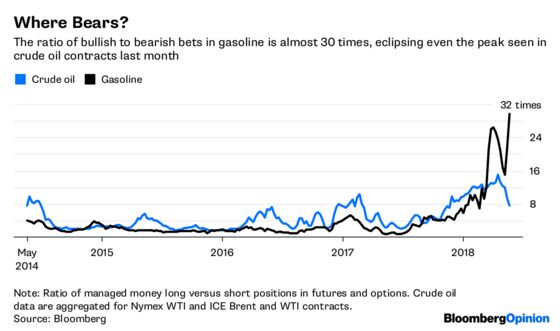 Gasoline does tend to enjoy some strength heading into the U.S. summer. Still, such seasonal positioning typically peaks in May before Memorial Day; and the sheer magnitude of this run-up puts it in a class of its own.
It remains to be seen just how much OPEC and Russia will actually do in terms of filling the growing crude-oil supply gap left by Venezuela. But it seems likely hedge funds will keep trimming positions in those contracts amid the uncertainty, keeping pressure on crude oil, if not necessarily sparking a big correction.
Gasoline, on the other hand, looks a far-riskier proposition. A robust economic outlook has underpinned expectations of strong demand and, thereby, rising prices. But those same prices challenge further increases in demand. Meanwhile, the flurry of nerves around emerging markets and Italy could give all but the most committed gasoline bulls an excuse to take some risk off the table. With speculators this pumped, it may not take much to spark a summer retreat.