Ex-NYSE Chief Liked SPACs So Much He Joined One
(Bloomberg Opinion) -- Before leaving a powerful and prominent job, it helps to know you have another lucrative place to land. Tom Farley, who stepped down as the head of the New York Stock Exchange, was lucky enough to help lay the groundwork for his next opportunity.
Last week, the Big Board announced that Stacey Cunningham was taking over as president. The big news was that Cunningham is the first woman to run the exchange without sharing the president's title in its 226-year-history. NYSE only allowed in its first woman member, Muriel Siebert, in 1976.
Not as momentous but certainly notable was Farley's next destination. He will head a Special Purpose Acquisition Company, or SPAC. These vehicles, which raise money first and tell investors what they are going to do with it later, are sometimes called blank-check companies. SPACs, too, were not welcome at NYSE for a long time, in part because of fears of fraud or an erosion of listing standards. Until last year, NYSE had not listed a SPAC for at least a decade. But under Farley, the exchange loosened as many as nine rules to get into the growing business of listing SPACs. Farley's new firm, Far Point Acquisition Corp., is seeking to raise as much as $400 million. It plans to list, unsurprisingly, on NYSE.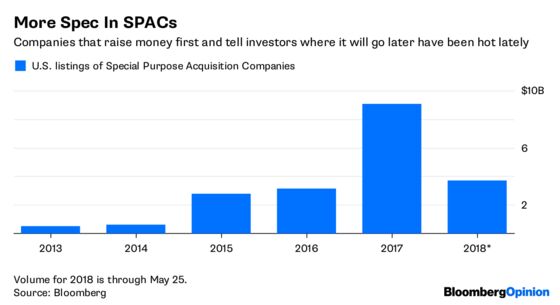 NYSE didn't ignite the recent investor interest in SPACs. And lawyers I talked to said NYSE was playing catch-up with rival Nasdaq Inc., which loosened its standards for SPACs in the late 2000s and had become the market of choice for them.
Nevertheless, NYSE's thumbs up certainly seems to have boosted the market for the blank-check companies. In the past year since NYSE listed its first SPAC — an entity formed by private-equity firm TPG and a former head of Occidental Petroleum, in May 2017 — the volume of similar deals has nearly doubled. Thirty-one SPACs have listed in the U.S. in the past year, raising nearly $9 billion, up from $4.9 billion in 16 deals the year before. NYSE has also drawn in bigger players into the SPAC world, adding to the investment vehicle's legitimacy. Goldman Sachs is raising $600 million for a NYSE-listed SPAC that will be run by the former CEO of Honeywell International Inc.
While NYSE has some power and duty to police its stock exchange, it's not part of the government, and the Securities and Exchange Commission had to approve all of the changes to the NYSE's SPAC rules. NYSE declined to comment, and Farley could not be reached for comment.
And while SPACs have found a new fertile field at NYSE, in part because of efforts by Farley, it is not clear how much he will benefit directly in his new job. Far Point, which is looking to buy up fintech companies, did not disclose Farley's compensation, which is normal for SPACs. Far Point's prospectus says Farley is receiving an equity stake in the SPAC's sponsor, which is owned by an entity affiliated with Dan Loeb's hedge fund firm, Third Point. Third Point said Farley would receive no compensation from the firm and would not have a relationship with its funds. Farley received $4.6 million in compensation last year as the head of NYSE. At least one person who knows SPACs and Farley said if anything he is overqualified for the new job.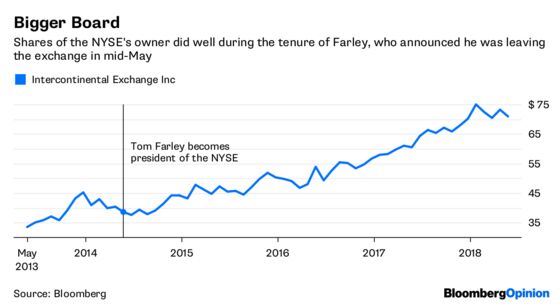 With fewer companies doing IPOs, jumping into SPACs, of course, made a lot of sense for NYSE. What's more, despite a structure that would seemingly invite misdirection, there has been relatively little fraud in the SPAC space. Still, it's not clear how good blank-check companies are for average investors, whom these deals are targeted at. SPACs offer an investment with little disclosure, more risk and potentially little reward. Last November, Bloomberg Intelligence issued a research paper on the sector that concluded the risks of investing in SPACs outweighed the rewards. Many SPACs liquidate without ever doing any deals. The rest are completing with plenty of other players, including a universe of private-equity funds flush with cash.
What SPACs do offer is a potentially lucrative next career path for Wall Street dealmakers, which now includes someone who helped give the market a pretty big boost.