Hong Kong Needs an Ant to Move This IPO Mountain
(Bloomberg Opinion) -- It will take an Ant to move this Hong Kong stock mountain.
Until recently, Hong Kong was an IPO desert. Issuance had been falling for four consecutive years as investors grew weary of deal after deal from state-owned Chinese firms.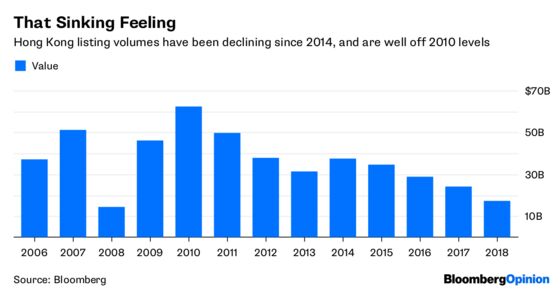 Then came ZhongAn Online P&C Insurance Co. and Tencent Holdings Ltd.-backed China Literature Ltd., which both ignited interest with their new-economy business models. Last month, the city loosened share-sale rules to allow for dual-class stocks. It also did away with a revenue requirement for innovative companies.
Now, Hong Kong's listing committee is facing a flood that threatens to topple Goldman Sachs Group Inc.'s IPO forecast of $38 billion for this year. There's smartphone maker Xiaomi Corp., Lufax, WeLab Ltd., Meituan Dianping and Jack Ma's Ant Financial Services Group, which operates payments platform Alipay. That's on top of U.S. cancer detection startup Grail Inc., 3D Medicines Corp. and China Tower Corp. At this rate, Hong Kong will have no problem vaulting into the No. 1 spot for share sales globally.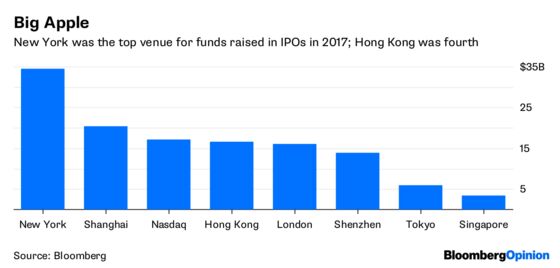 But apart from China Tower, which is sure to find plenty of mainland support, many may have a problem meeting the heady valuations being bandied about.
Xiaomi, for instance, isn't generating much excitement with its promise of low operating margins on hardware. Ride hailing service Didi Chuxing may have defeated Uber Technologies Inc. in China, but Meituan Dianping is now muscling in on its territory. Biotech firms, meanwhile, are notoriously prone to boom-and-bust cycles and let's not even talk about the risks of cryptocurrency plays.
Hong Kong's lack of trading depth is another concern. Turnover in Alibaba Group Holding Ltd.'s​​​​​ U.S. shares this year has ranged between 20 to 30 percent of the value of all securities changing hands on Hong Kong's main board, for example. And investors in the former British colony tend to be less discerning, prizing profit above all else and turning a blind eye to other important considerations, like a company's longer-term growth potential.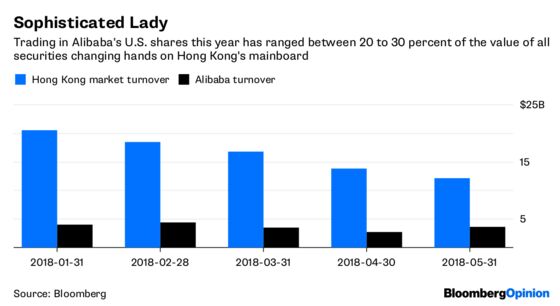 Already there are signs that everything might not be going the way Hong Kong Exchanges & Clearing Ltd. hoped. Razer Inc. is down 37 percent since listing, while Ping An Healthcare & Technology Co., or Good Doctor, is also under water. Chinese companies that are listed in the U.S., like Baidu Inc.'s iQiyi Inc. and Huya Inc., are having a much better time of it.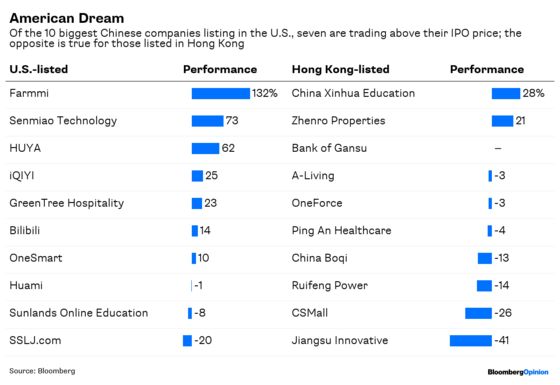 To guarantee big gains, Hong Kong really needs another Tencent. There aren't many in the queue that fit the bill. But, if it successfully navigates its way through stricter regulations being imposed by Beijing, Ant Financial Services might be the one.
-- Elaine He and Andy Mukherjee contributed to this column.