Tiffany Stops Clutching Its Pearls and Embraces Youngsters
(Bloomberg Opinion) -- Tiffany & Co. has been trying hard to telegraph that under its new chief executive officer, Alessandro Bogliolo, it is not a stodgy jeweler stuck in the past.
It introduced a whimsical collection of so-called everyday objects that includes a $650 ping-pong paddle set made of leather and walnut. The message? This is not your grandmother's Tiffany.
But it was hard to tell initially if these were just gimmicks or outward-facing symbols of a company that is truly transforming itself for a younger audience.  
Wednesday's earnings results, though, helped settle it: This company is, indeed, polishing up.  
Tiffany smashed analysts' expectations on several measures. Its earnings per share of $1.14 easily surpassed the expected 83 cents. On a constant-currency basis, its comparable sales rose 7 percent over a year earlier, far higher than the 2.6 percent growth analysts had estimated.
What's especially encouraging about Tiffany's strength in the quarter is how broad-based it was. Its Americas, Asia-Pacific and Japan divisions all experienced robust growth, and executives said it was powered by both local consumers and foreign tourists.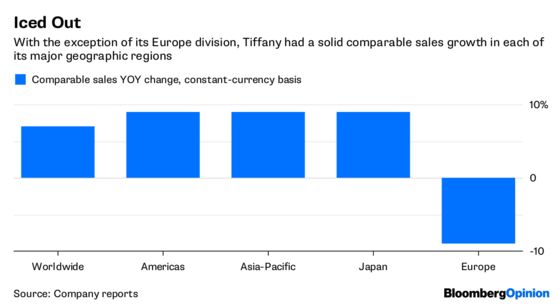 Tiffany also reported strength across product types, including engagement rings and the segment that includes lines such as Tiffany Keys and Tiffany HardWear.
It was instructive, too, to hear what powered the strong performance in engagement jewelry. Executives said the new Believe in Love marketing campaign played an important role in driving sales. And crucially, Bogliolo said the company put just a "normal" level of investment in this campaign; it just really seemed to hit home with shoppers.  
Bogliolo also said store associates had been receiving training focused on selling engagement jewelry, and that seemed to help in the quarter. Tiffany is right to focus on delivering distinctive customer service if it wants to preserve its aspirational vibe and justify its wallet-busting price tags.
Tiffany shares soared to record highs on the latest results, but investors should take care not to let all that sparkle blind them.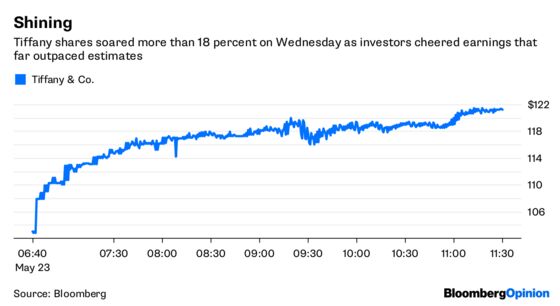 The results are not in on how consumers will respond to its new Paper Flowers collection, which hit stores just recently. Executives characterized it during a Wednesday call with investors as a "landmark" launch for Tiffany. Indeed, it is a huge test of Chief Artistic Officer Reed Krakoff's ability to keep steering Tiffany toward a fresh, modern brand personality. A durable turnaround depends on new products lines like this one being a hit.
And Tiffany also appeared to benefit from an especially strong consumer backdrop in the quarter. Macy's Inc., another retailer that relies significantly on international tourist spending, said sales from this group rose an eye-popping 10 percent over a year earlier in its latest quarter.
Tiffany needs to keep the strong sales coming to show it's doing more than just benefiting from vacationers' fresh willingness to splurge.
But for now, Tiffany appears to be succeeding at becoming hipper and younger. And that's a good look for the historic retailer.