M&S Takes Its Medicine
(Bloomberg Opinion) -- Archie Norman, the famed turnaround specialist who is now chairman of Marks & Spencer Group Plc, is hoping for a textbook transformation of Britain's biggest clothing store by value.
He is certainly reading from the classic first page: on Wednesday the company announced 514 million pounds ($688 million) of one-time charges, more than halving pre-tax profit in the year to March 31.
The company denied this was a kitchen sinking. Indeed, much of the write-downs are needed. M&S is closing 100 of its stores that sell both clothing and food, so it must adjust the value of its aging shops.
As I have argued, these charges might not be the last. Norman and Chief Executive Officer Steve Rowe are also investing to improve M&S's online business and its logistics network. The website needs to be faster, and a new distribution center built. Their predecessors already spent billions of pounds on this, so it's fair to question the value of all that investment.
Nevertheless, with profits rebased, if Norman can deliver some improvement, then they should rebound.
The report included some bright spots. Profit before one-time charges, although down 5 percent from 2017, exceeded analysts' forecasts. The company also said its clothing and home furnishings gross margin may rise as much as 0.5 percent, as the sourcing environment becomes more favorable.
Meanwhile, customers in its clothing and home furnishing division increased for the first time in five years, while the pension surplus is approaching 1 billion pounds. The company also maintained its dividend, sending the shares up about 3.5 percent.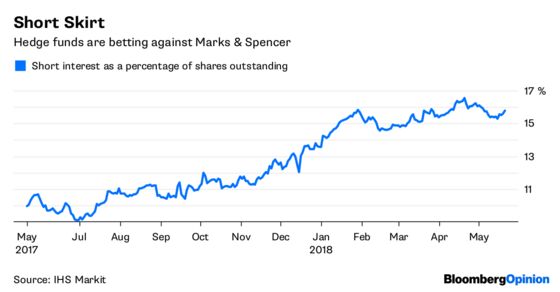 But the task is monumental. The 3.4 percent drop in same-store clothing and home furnishings sales in M&S's final quarter – more than double what analysts forecast – underlines the scale of it.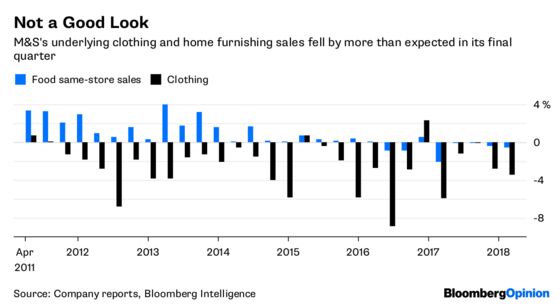 In the food business, Norman will invest in lowering prices. The cost of this will be met by efficiencies, and increased volumes, which should mean better deals from suppliers. The company is forecasting a drop of as much as 0.5 percentage points in the gross margin, and there's a risk it falls by more than that.
The bigger danger is that food loses its upmarket positioning, but then struggles to hold its own against the midrange supermarkets. M&S has form in this – under a succession of chief executives, its clothing has yo-yoed between being a value offering and a premium selection.
It's still gyrating. Norman, whose background is in the grocery sector, also wants M&S to become more appealing to families. He's already talked about M&S being Britain's essential clothing retailer. The focus on value and families risks plunging M&S into competition with the supermarkets and Primark. That's a battle it can't win.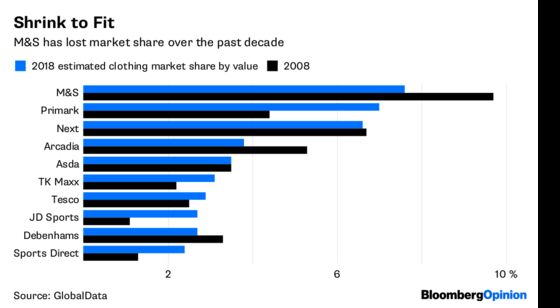 Even with the bounce on Wednesday, M&S shares are down more than 20 percent over the past year. They trade on a forward price to earnings ratio of 11.3 times, a deserved discount to Next's 13.6 times.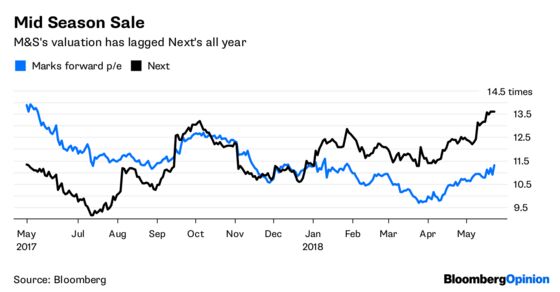 There is no doubt that Norman and Rowe are taking a more realistic view of M&S's problems than previous management teams.
But their actions may be too little, too late. Norman could yet work his magic. But M&S has lost its relevance to the modern shopper. It will need more than a series of store closures and a faster website to reconnect.