Lenovo Can Find the Love It Deserves Back Home
(Bloomberg Opinion) -- By the end of today we should know whether Lenovo Group Ltd. took the long overdue step of writing down some of its $5.2 billion in goodwill.
Back in January, I advocated for a sizable impairment because previous acquisitions were delivering a worse economic performance than expected, which I estimated could plunge Lenovo into a loss for the full year to March 31. 
To recap: Lenovo went on a $5 billion spending spree four years ago to buy marquee names such as Motorola and IBM to boost its emerging smartphone and server businesses. Today, those units are constant losers (literally), ergo the premiums Lenovo paid for them — in the form of goodwill — ought to be written off.
Lenovo's stock has dropped about 17 percent since I made that case, and will be booted from Hong Kong's Hang Seng Index next month.
To be sure, there are enough signs of trouble at Lenovo beyond goodwill. A further indication of the smartphone unit's travails came earlier this month when Chairman and CEO Yang Yuanqing told staff he's folding it into the PC division, Sina and Yicai Global reported.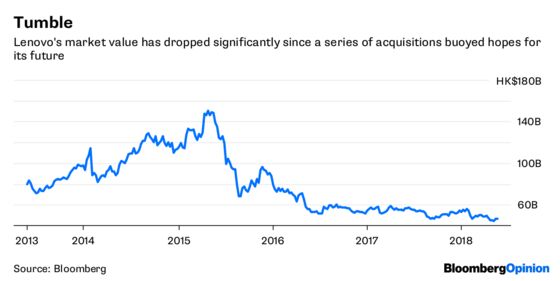 There's a case to be made that recognizing an impairment will restore management's credibility and prepare the company for what I think might be the next phase in its history: a China listing.
China depositary receipts are coming. Beijing wants to lure companies, especially those in the tech industry, and offering a depositary receipt mechanism is a sound way to do it. Current listing rules for China are fairly strict, including the requirement to have a profitable track record as well as a cap on the intangible asset ratio (goodwill is an intangible).
The regulations around CDRs haven't been published yet, but there's speculation restrictions will be eased significantly. The profit requirement may be scrapped — good news for Xiaomi Corp., which wants to spin its Hong Kong IPO into a China CDR debut. If that is the case, then a loss-making Lenovo would be able to join the bandwagon.
Lenovo's intangibles stood at 29 percent of total assets at the end of December, its fiscal third quarter. That's above the current China listing cap, but a deep cut in goodwill as well as trademarks and trade names could bring it under the limit. That said, this requirement will probably be eased for CDRs anyway.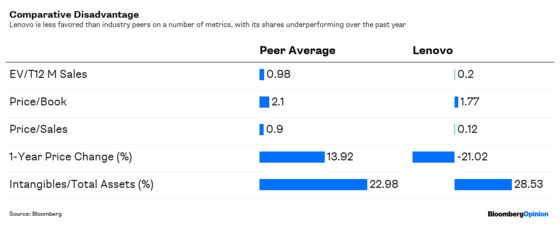 Lenovo is currently trading below its peers on a number of metrics including price to sales, price to book, and enterprise value to sales. Being removed from the Hang Seng Index and competing with Xiaomi, Tencent Holdings Ltd. and China Mobile Ltd. for the attention of Hong Kong tech investors means it's going to be tough for those ratios to rebound in a hurry.
A move to China, where there's lots of money and not a lot of quality international technology names in which to invest, would see Lenovo find the love it thinks it deserves. But first, it needs to prove it's deserving.