Dark Side of China's Car Tariff Cuts
(Bloomberg Opinion) -- As the doors creak wider open, every automaker has its sights set on China. The world's largest car market is ostensibly the future of industry profits. That promise is now under threat, though.
Beijing said this week it will reduce the long-held 25 percent tariff on imported cars to 15 percent and slash levies on auto parts to 6 percent from as high as 25 percent. Benevolent as that may look amid the current protectionist trade rhetoric, it won't move the needle much beyond allowing the likes of BMW AG and Toyota Motor Corp. to sell a few more high-end models. Imports account for only around 5 percent of Chinese vehicle sales.
China is the one market to have yielded fast results for global carmakers, as U.S. demand heads into a rocky patch. Nissan Motor Co., for instance, predicts the country will become its biggest sales contributor this fiscal year. Volkswagen AG, the world's largest carmaker, sold more than 3 million vehicles, or a third of its global total, in China last year.
The trouble is the market is crowded and the throngs are still pouring in.  Lower duties will affect the single most important factor for automaker profits: pricing, which is already under pressure. Following the reduction, Toyota said it would cut retail prices on imported Lexus and other vehicles. Competitors are reviewing their strategies. Lower tariffs alone will translate to a drop of about 8 percent in manufacturers' suggested retail prices, Goldman Sachs Group Inc. estimates.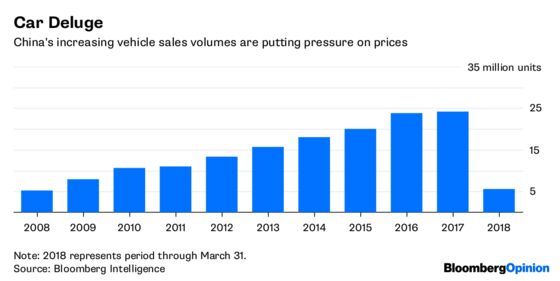 Almost 80 percent of imported cars are considered high-end or premium. Cutting levies will add marginal volume: The rise of luxury marques has been underpinned by the quickening penetration of auto-financing in recent years, making this slice of the market less sensitive to slight moves in price. However, there will be a trickle-down effect on the mass market as top-tier discounts erode pricing power for cheaper cars.
That's great for consumers; for automakers, perhaps not so much. Despite higher margins than almost anywhere else in the world, global automakers have been whining about rising pricing pressures in China.
General Motors Co., for instance, said in April this remained a challenge, reporting that margins narrowed to 8.6 percent in the first quarter from 9.3 percent a year earlier. Ford Motor Co., which says it strives to build cars "in China, for China" has seen margins at its joint venture shrink to 8.9 percent from 13 percent in the first quarter of last year. Declining profitability could now undermine the hopes carmakers have pinned to the Chinese market.
There's no doubt that opening up to free trade and removing barriers to entry can help to smooth tensions with the U.S. and promote industrial efficiency. But for a high-volume market that's grown up on tariffs and subsidies, pricing is already distorted. As margins are compressed, volumes are continuing to increase: China's car market is expected to grow between 2 percent and 5 percent this year after topping 24 million units in 2017. Industry utilization rates, running at around 75 percent last year, are dropping.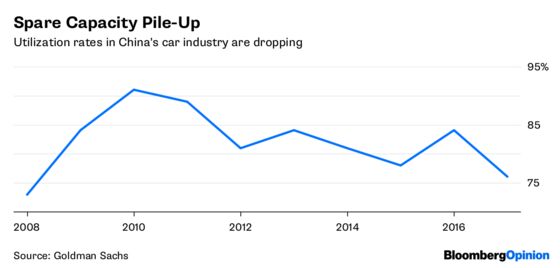 What's more, the lesser-noted cuts in auto-parts tariffs may have an even bigger impact, allowing domestic automakers to import chassis, body frames and trappings that will make them more competitive versus foreign rivals.
Carmakers rushing into China should realize there are plenty of potholes in the way of those promised profits.