Barclays, Join the List of Jilted StanChart Suitors
(Bloomberg Opinion) -- The long-awaited marriage of Standard Chartered Plc is a story of three decades of yearning that's never found consummation. 
The latest potential suitor is Barclays Plc, which is reported by the Financial Times to be exploring a merger (read takeover) of StanChart. London-listed Barclays isn't considering a possible deal, Reuters reported, citing two people close to the lender.
In the event of a proposal, expect a polite but firm rejection.
The deal can be made to look sensible, even sexy, in a PowerPoint presentation: Barclays is big in U.S. investment banking, thanks to its acquisition of most of Lehman Brothers Holdings Inc.'s American business in the wake of the financial crisis. It also has a large U.K. and U.S. credit card business. Standard Chartered's prowess is in Asia and Africa, the two growth areas in banking, and a neat fit into Barclays' geographic hole. StanChart also has a juicy deposit franchise in Hong Kong and Singapore, where it's big in mortgages.

So why won't the synergies work? For one thing, regulators, frustrated with failed shotgun bank weddings after 2008, are unlikely to go easy on a deal that would create an institution with a combined market value of more than $80 billion. Nor are shareholders (on both sides) likely to bless the union. And they'd be right.
Members of Barclays's board may have cooked up this plan to ward off 5.4 percent owner Edward Bramson because the activist shareholder might ask for a lot of capital to be returned. That's something banks are loath to do now that they're seeing growth. As we noted this month, even HSBC Holdings Plc is de-emphasizing buybacks to grow into areas like insurance and fintech.
Those are real plans. How will Barclays Chairman John McFarlane, battling years of underwhelming performance, justify StanChart as a ticket to ride the opportunities in Asia and Africa?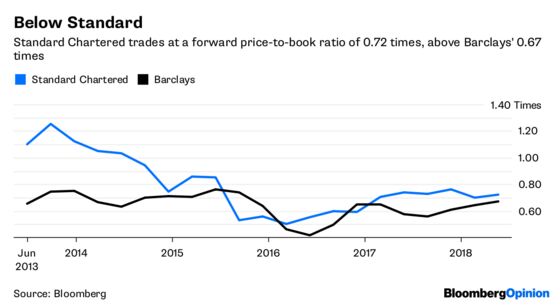 McFarlane, a former executive chairman at Aviva Plc and CEO at Australia & New Zealand Banking Group Ltd., was a big Asia proponent in his previous incarnations, but he also oversaw the closure of most of Barclays's Asia businesses two years ago. He sold the Africa operations as well, though the FT notes that this sale "pulled his guts out."
Barclays Chief Executive Officer Jes Staley, a former JPMorgan Chase & Co. banker like his StanChart counterpart Bill Winters, is two-and-a-half years into the job of trying to fix the London-based bank. But unlike Winters, he has yet to show results. A regulatory rap-on-the-knuckle for trying to out a whistleblower hasn't exactly endeared him to shareholders. Maybe Barclays investors will back the deal simply to swap Staley for Winters? That would be one costly CEO hire.
As for StanChart, the turnaround under Winters is starting to work, but only just. It's unclear why Singapore state investment firm Temasek Holdings Pte, the biggest StanChart shareholder, would accept a sale when valuations are still depressed. Besides, Barclays's heft in the U.K. retail market doesn't extend to elsewhere in Europe. A merger of the two, and Winters landing the top job, would give him a much bigger bank, but also an unwieldy one.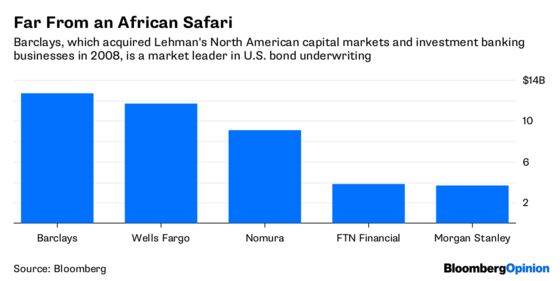 Such a deal might have flown in 2004, but things are different now. What StanChart needs is a stronger presence in U.S. commercial banking, and a partnership with a fintech player to sharpen its edge in trade finance, which may be the first banking activity to embrace blockchain. For Barclays, merging with Credit Suisse Group AG, to benefit from its wealth management franchise, may make more sense as a shield from credit card defaults, which are bound to increase as interest rates rise. Barclays sold its private-banking business in Asia in 2016 because it lacked scale.
StanChart's destined to stay single. In 1986, Lloyds Bank Plc's attempted takeover of the emerging markets lender was foiled by three tycoons, including late Singapore-based financier Khoo Teck Puat, whose stock was ultimately acquired by Temasek. In 2001, StanChart fired CEO Rana Talwar amid rumors the ex-Citibanker was willing to consider informal approaches from Lloyds and… Barclays. Since the financial crisis, Spain's Banco Santander SA and New York-based JPMorgan have been mentioned as potential suitors. Singapore's DBS Group Holdings Ltd., also partly owned by Temasek, is another frequently mooted acquirer. DBS CEO Piyush Gupta, however, is probably happier buying digital businesses to boost shareholder returns.
If it's now Barclays's turn to try its luck, StanChart should jilt this latest admirer too.