M&S's Sparkle Is More Like a Fizzle
(Bloomberg Opinion) -- Marks & Spencer Group Plc rebranded itself as Markle & Sparkle over the weekend, in honor of the royal wedding. But with so much work in progress, for investors, any celebrations are likely to fall flat. 
The company will step up the pace of store closures when it announces its annual earnings on Wednesday, Bloomberg News reported.
Although the amount of capacity coming out of the company's estate is unlikely to change from what's already been announced -- 100 to 110 stores, or about 25 percent of clothing and home space -- it's likely that more of the reduction may come through store closures, rather than relocations.
Although shuttering shops is likely to grab the headlines, it doesn't capture the whole story of what is happening at the high street stalwart.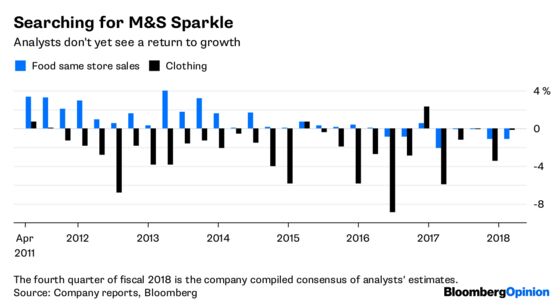 Archie Norman, the chairman who is driving the transformation, is also set to invest in fulfillment centers to speed up online delivery times. He will also carry on revitalizing the supply chain for clothing, according to the strategy he set out last November.
M&S wants a third of its clothing and homeware sales to be online in the medium term, compared to 20 percent at the moment. As I've noted before, European retailers are racing to bolster their online operations. That all means more spending. Some of M&S's online bill will be met by cost cuts elsewhere, but the retailer won't be immune from the need to dig deep.
For long-suffering M&S investors, this all sounds familiar.
Former Chief Executive Officer Marc Bolland spent about 3 billion pounds ($4 billion) trying to overhaul systems and logistics, including building a state-of-the art warehouse in Castle Donington, England. If yet more modernization is needed, that raises questions about the value of this investment. A write down could be on the cards.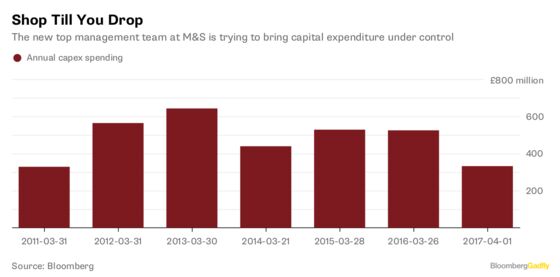 Norman and CEO Steve Rowe have made a good start in tackling overvalued assets. But their two rounds of big write-downs have mostly focused on both the U.K. store network and the overseas footprint.
A faster pace of domestic store closures means there could be more to come this time round. The company still had 4.8 billion of property, plant and equipment on its balance sheet at April 1, 2017, compared with 5 billion at the year earlier period.
But at some point, the value of M&S's infrastructure and logistics investment also needs to be tested. It's possible it is still too early for this process, but this is a shoe that is ready to drop.
M&S shares rose more than 2 percent early Monday, reflecting investor enthusiasm for accelerated store closures and the appointment of new non-executive directors, including Katie Bickerstaffe, a highly respected former Dixons Carphone Plc executive.
But they are still down 25 percent over the past year, and the company could fall out of the FTSE 100 Index.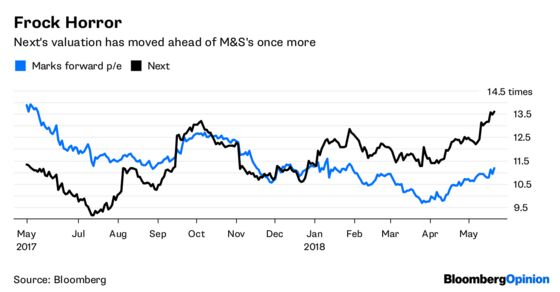 They trade on a forward price earnings ratio of 11.2 times, a deserved discount to Next's 13.6 times.
Though taking an ax to the store estate is welcome, M&S needs to do the same to its balance sheet.