Markets Are Wrongly Discounting Trade Risks
(Bloomberg Opinion) -- U.S. financial markets seem unfazed by a sequence of negative developments on the trade front. The May 17 date set by Paul Ryan, speaker of the U.S. House of Representatives, for Congress to approve a revised North American Free Trade Agreement has passed with no resolution. The European Union, a major U.S. ally, resents the June 1 deadline President Donald Trump has set for imposing tariffs on steel and aluminum unless the EU accepts reduced export quotas.
Perhaps most important, Trump said last week that he doubts trade negotiations with China will succeed. He had demanded that China's trade surplus with the U.S. be reduced sharply from $375 billion to $175 billion, a target that the Chinese authorities have not been willing to meet, we learned Sunday. The two sides have avoided a trade war so far, U.S. Treasury Secretary Steven Mnuchin said in a television interview Sunday, but they still seem far apart in their positions. Failure of talks could still prompt China to impose countervailing duties on U.S. agricultural exports, and limit the activities of companies such as Apple and Google that have major operations in that country.
Yet this month's rebound in equities and surge in U.S. Treasury yields suggest that investors are sanguine about these storm signals. Instead, they are comforted by the robust corporate earnings picture as well as the Federal Reserve's optimistic outlook.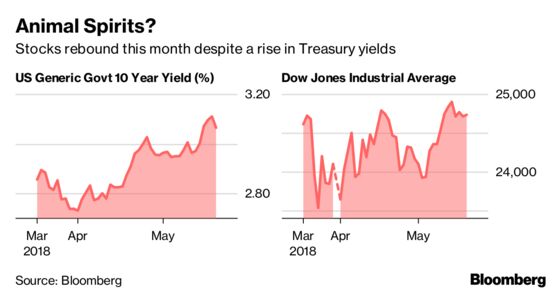 Why is the consensus so positive on the economic outlook?  First, the Trump administration dismantled many of the cumbersome regulations governing businesses enacted under the Obama administration soon after taking office in January 2017. Markets greeted that move with an increase in valuations. This was followed by lower tax rates on corporate income and foreign profits repatriated back into the U.S. The extent of increase in corporate bottom lines in the first quarter of this year was a positive surprise.
But now, U.S. officials face trade battles on three fronts with each of its adversaries threatening to target select U.S. exports. More than $1 trillion in goods and services annually pass through the U.S., Canada and Mexico under the aegis of Nafta. The EU as a region imported $282 billion from the U.S. in 2017, matching Canada as the top buyer of American goods and services. And China, the world's top exporter, is arguably also the foreign country providing the greatest growth opportunity for U.S. companies.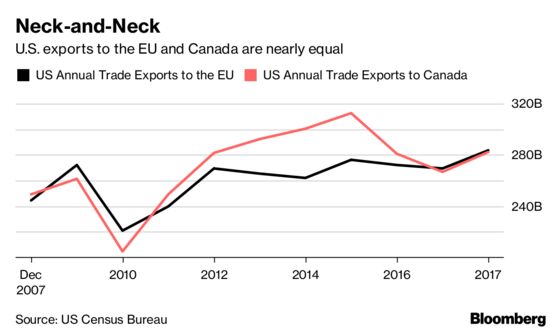 While markets anticipated the positive impact on valuations from the deregulatory moves and the reduction in tax rates, there has not been a similar recognition of the perils of a potential trade war. Retaliatory tariffs, or limits on U.S. corporate activity in domestic markets, are likely to have an adverse impact on the U.S. economy and markets in two principal ways.
The first would be through trade diversion affecting, for example, aircraft and soybeans, the two principal U.S. exports to China. The increase in the landed cost of aircraft would make it cheaper for Chinese airlines to purchase equipment from the Europe-based Airbus rather than Boeing. Similarly, Argentina and Brazil might be able to sell soybeans at a lower cost to Chinese buyers than Illinois or Iowa. The U.S. trade deficit could actually expand, rather than shrink.
There would also be a secondary impact on wages and overall economic growth as the affected U.S. companies lose market share in important foreign destinations. Export sectors typically pay better wages than those oriented toward the domestic economy because the former tend to be more capital-intensive, thereby raising the productivity of labor. A drop in wages and employment in the export sector will put the Trump administration's 3 percent economic growth target beyond reach.
If any of these risks actually occur, investors would be holding equities priced too richly and high-grade fixed-income instruments such as Treasuries would be attractive hiding places at current yields. It would be reckless to ignore the headwinds. The time to shift to a more defensive stance is now, since none of the threatened Trump tariffs has gone into effect. Strategies that favor preservation of capital over risk is the right way to go.