Walmart Gets Its E-Commerce Mojo Back But Needs Next Steps
(Bloomberg Opinion) -- Walmart Inc. shook investors earlier this year with an e-commerce stumble. On Thursday, it took a step toward reclaiming the narrative that it has a handle on its digital strategy.
As the big-box retailer reported first-quarter earnings, much of the focus was on one number: Its U.S. e-commerce growth. Walmart's digital business had been booming for a while under Jet.com founder Marc Lore's leadership until the recent holiday quarter, when growth in this channel slowed significantly. Suddenly, investors got worried that his strategies had only been temporary patches for Walmart's e-commerce problems, rather than long-term remedies.
But in the latest quarter, Walmart picked up the pace. It reported that U.S. e-commerce sales increased 33 percent over the same period last year. That, coupled with adjusted earnings per share that beat analysts' estimates, helped to send its shares up nearly 2 percent in early trading.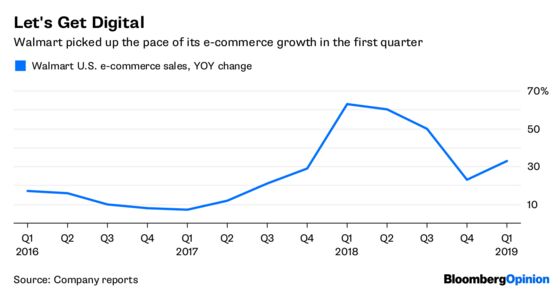 It's worth noting that Walmart's guidance is for 40 percent e-commerce growth for the full fiscal year, so it still has work to do in the months ahead if it hopes to achieve that. But executives should be glad they were able to get that number moving in the right direction — especially now, as shareholders have grown increasingly restless.
For much of 2017, Walmart investors were hopped up on a tide of good news. Its third-quarter U.S. comparable sales growth was its best in more than eight years. Its digital sales growth, for a while, seemed to have gone on steroids. It added Bonobos to its stable of brands, a brand that is an emblem of digital-savvy, millennial-generation cool. Lately, however, their optimism had been wearing thin, with shares falling nearly 13 percent this year.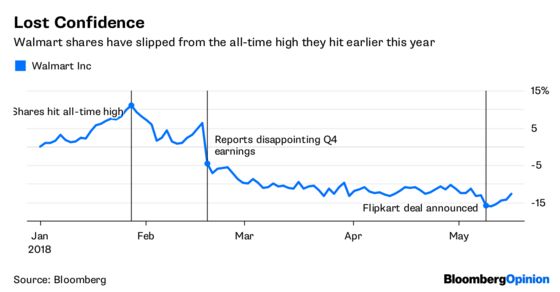 Thursday's results were an invitation for investors to hang in there. In addition to the improved e-commerce growth, Walmart delivered a 2.1 percent increase in U.S. comparable sales, which was driven in part by a 0.8 percent increase in traffic. The company said it recorded saw strong performance in the grocery business, a category that is essential for Walmart to excel in as Amazon.com Inc. ramps up its overtures to customers in this segment.
As for e-commerce, Walmart has made some prudent moves in the past year or so to shore up its digital business. It has dramatically increased its online assortment and it has expanded online grocery pickup and delivery to more markets. It offers two-day shipping on many items without a membership, a potentially powerful differentiator at a moment when Amazon.com Inc. just hiked the price of its Prime subscription.
Now Walmart needs to keep the big ideas coming.
As I've noted previously, I think the retailer made a good call in agreeing to shell out $16 billion on a controlling stake in Indian e-commerce heavyweight Flipkart. One side effect of that, though, is that I suspect investors won't have the stomach for more major acquisitions in the near term. So that ratchets up the pressure to build on its e-commerce growth from within.
In particular, I think a significant burden is now on Andy Dunn, the Bonobos founder who leads Walmart's efforts to create digital-centric brands from scratch, to notch a big win this year. We got a hint of what he's up to with the debut of AllswellHome.com, a site that sells mattresses and bedding targeted at upscale consumers.
It will be important that he demonstrate with that site or similar initiatives that new digital brands can do more than just help Walmart around the edges. We need some clues that these can become powerful drivers of online growth.