Homebase's $1 Billion Botch Job Is a Dream for B&Q
(Bloomberg Opinion) -- What a difference a day makes in the world of British home improvement.
On Thursday, retail chain Kingfisher Plc reported a worse than expected 9 percent fall in U.K. same-store sales at its B&Q Do-It-Yourself division. Yet on Friday one of its biggest rivals was sold for a nominal sum after its Australian owners admitted they'd made a $1 billion botch-job of their entry into the U.K. The struggling Homebase chain will now be passed onto restructuring firm Hilco Capital, sending Kingfisher shares up as much as 5 percent.
Hilco's plans for Homebase are unclear, but they will probably involve store closures. Another change of ownership and strategy, just two years after Australia's Wesfarmers Ltd. bought the chain, can only bring further disruption.
This should all be music to the ears of Kingfisher boss Veronique Laury, who is trying to lift her own company's profit by 500 million pounds ($668 million) a year by 2021.
So far, the performance has been disappointing. She's battling with Brexit-wary consumers and Brits turning off of B&Q's home-improvement products. It faces competition too from discounters such as B&M European Value Retail SA, which are making inroads into areas like garden furniture. B&M is expanding quickly and might try to pick up any Homebase store disposals.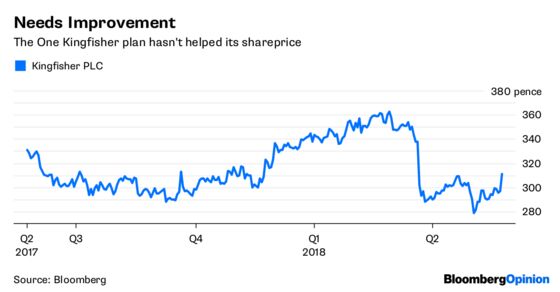 True, Laury hasn't prospered much from Homebase's struggles over the past two years. But even if Hilco does make positive changes, the turnaround will take time and will probably leave Homebase much smaller. That gives Laury another chance to build on the turmoil.
B&Q may be helped by Britian's recent (and unusual) burst of sunny weather. But if she fails to take advantage of her good fortune, then calls to break up her 6.7 billion pound company will intensify. After activist investors successfully pushed Whitbread Plc to spin off coffee chain Costa, Kingfisher looks another obvious target.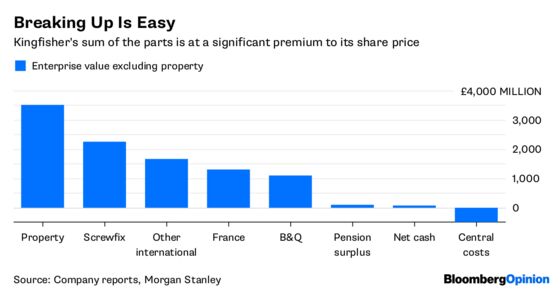 The trade-focused Screwfix stores are performing better than B&Q, so they are a prime candidate for separation. They're worth about 2.3 billion pounds, according to Morgan Stanley analysts. Kingfisher also has 3.5 billion pounds of freehold property and zero debt, adding to its allure. All in all, Morgan Stanley estimates the break-up value at 430 pence per share, well above Friday's 310 pence price.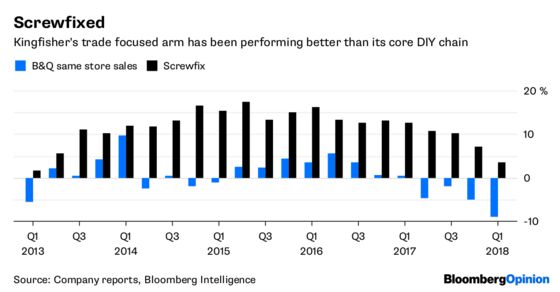 Laury can at least console herself that she's seen off one muscular overseas rival from her doorstep, in Wesfarmers. But if she fails in her fix-up job, U.S. activist funds may soon follow.