Zloty Tests Polish Intervention Appetite With Gain to Key Level
(Bloomberg) -- The zloty swung back to a level seen as a possible trigger-point for central bank intervention, keeping investors on edge about its true intentions for preventing more gains.
The Polish currency rose past 4.50 per euro on Thursday, a level that prompted the central bank to step in last year to halt the advance. In see-saw trading after a public holiday on Wednesday, the zloty quickly lost all of its gains only to rebound later in the day as traders tried to guess whether the central bank is back in the market.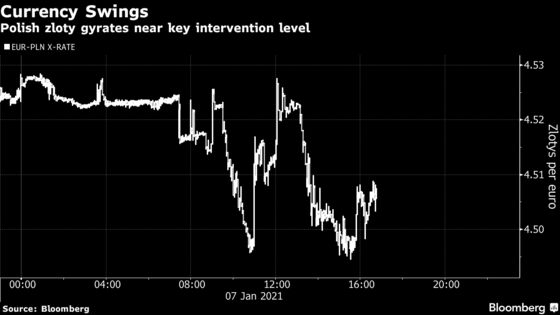 The zloty is being jolted after its rally since October launched a rare effort from policy makers to curb the currency's strength. That culminated in direct market interventions from mid December, starting below 4.45 per euro and then resuming at 4.50 in the final days of the year. The steps contributed to the zloty's biggest annual retreat in almost a decade.
The central bank, which officially fixed the zloty at 4.4973 per euro on Thursday and meets next week for its first policy meeting of the year, declined to comment on the exchange rate when contacted by Bloomberg News on Thursday.
Mateusz Bieniek, the chief dealer at Santander Bank Polska SA in Warsaw, said the central bank wasn't behind the zloty's erratic moves.
"The market is a bit nervous, while trade is thin and volatile," he said. "Breaching 4.50 per euro caused a quick retreat. There's no sign of the central bank today."
Policy makers have been growing increasingly agitated about the strength of the currency after the central bank first warned of its dangers in June.
Governor Adam Glapinski said in this week's interview that the zloty's advance was "very harmful" and confirmed the central bank has been intervening. He also signaled that a rate cut may be in the cards this quarter, even though the current, record-low reference rate of 0.1% was "appropriate and best suits the situation."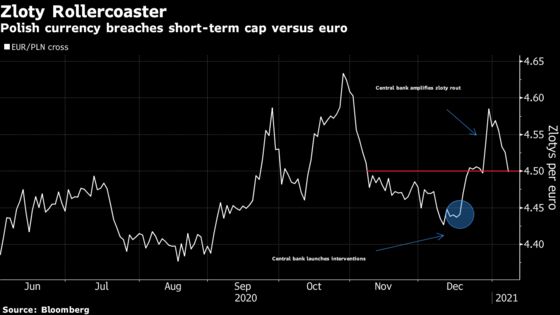 Citigroup Inc.'s economists Piotr Kalisz and Cezary Chrapek estimate that last month interventions were "relatively large" and reached around $6.7 billion. They expect the central bank to be less active on the market in early 2021.
While policy makers claim the attempts to weaken the currency are designed to aid Polish exporters, some analysts see a fiscal motive. The central bank may have been trying to inflate the zloty value of its foreign reserves at year-end to help drive up its profit, which the government could use to finance its 2021 budget deficit.
If that were the case, the central bank would have little reason to weaken the currency at the beginning of the year.
For Miroslaw Budzicki, a strategist at PKO Bank Polski SA in Warsaw, traders are still trying to understand the central bank's intervention pattern.
"Theoretically, the bank could have intervened around 4.50," he said. "But since there was no reaction, the market resumed zloty buying."