Glapinski Deflates Bets for More Polish Rate Hikes Next Year
(Bloomberg) -- Polish central bank Governor Adam Glapinski said that "everything indicates" that interest rate increases won't be needed after January, jolting wagers for more monetary tightening.
Hours after the central bank hiked its key rate by a larger-than-expected 75 basis points to 1.25% on Wednesday, Glapinski said another rate increase in December is more likely than no change. Late on Thursday, he told TVN24 that more monetary tightening may not be on the cards after inflation peaks in January.
"From January, everything indicates that inflation will decline and that further interest-rate increases won't be needed," Glapinski told the broadcaster at an award ceremony where he won a special economic prize. An earlier version of the story on TVN24's website didn't specify that the governor referenced a time period starting in early 2022.
Glapinski's comments sent the zloty weaker by as much as 0.7% against the euro on Friday, while shorter-duration government bonds rallied. Markets are especially volatile after the central bank wrong-footed investors with its move to tighten in October, which came months later than in the Czech Republic and Hungary.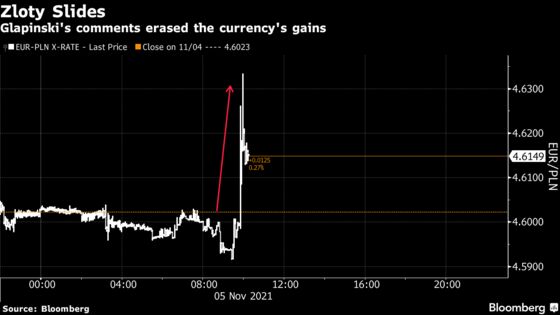 While Glapinski tried to cool rate-hike expectations, other policy makers are keen to continue to tightening to curb inflation, which has hit a two-decade high of 6.8% in October. 
Monetary Policy Council member Grazyna Ancyparowicz told Bloomberg that Poland must raise borrowing costs if price growth tops its forecast, while fellow panelist Eugeniusz Gatnar said the bank should continue normalizing policy.
Boosting pressure on the central bank to act, Prime Minister Mateusz Morawiecki said Friday that persistently high inflation may endanger economic growth. Donald Tusk, the leader of the biggest opposition party, called Glapinski "incompetent," saying that his actions contributed to consumer prices spiraling out of control.
Read More: MPC's Ancyparowicz Hawkish Comments
Forward-rate agreements, financial instruments used to bet on future interest-rate changes, showed expectations for 138 basis points in tightening over the next three months, down from 162 basis points on Wednesday. The yield on Poland's two-year government note dropped five basis points to 2.67%.
Poland is in need of higher borrowing costs to curb inflation, which has ballooned well beyond the central bank's medium-term target of 2.5%, plus/minus 1 percentage point. Glapinski, a close personal friend of ruling-party leader Jaroslaw Kaczynski, has long argued that the increase in prices was transitory and that higher rates could derail the economic recovery.
He unexpectedly changed his tune last month after Morawiecki called on the central bank to take "appropriate" action to tackle inflation. Runaway price growth has become a political headache for the government, which is trying to portray itself as a safe pair of hands in turbulent times.