Zillow's Drop Brings Market Value Loss to $30 Billion From Peak
(Bloomberg) -- Zillow Group Inc. shares plunged as much as 19% on Wednesday after the online real estate company moved to shut its home-flipping business, bringing the stock's market value losses to $30.5 billion from a February peak.
Zillow's market capitalization now sits around $18 billion following the stock's biggest drop since March 2020. Its shares are down for a third session, with losses mounting after Bloomberg reported earlier this week that the company was looking to offload about 7,000 homes. 
The stock surged to an all-time high in February after the company reported standout fourth-quarter results amid a U.S. housing boom fueled by low mortgage rates. Zillow shares nearly tripled in 2020.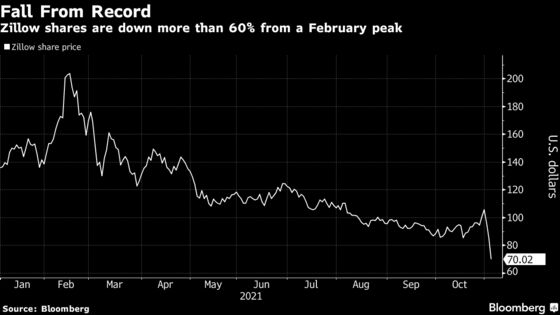 Zillow's strategy shift prompted at least five firms tracked by Bloomberg to downgrade their ratings on the stock, including Truist Securities, JMP Securities, Piper Sandler, Evercore ISI and BTIG. Several analysts also slashed their price targets for Zillow.