Zambian Bonds Fall After President Says Debt More Than Thought
(Bloomberg) -- Zambia's dollar bonds fell the most in more than two months after new President Hakainde Hichilema said public debt is higher than the previous government's official figures. 
The southern African nation's $1 billion in notes maturing in 2024 dropped by 0.8% to 79.2 cents on the dollar by 10:18 a.m. in London, the biggest decline since June 22. Before Wednesday's pullback, the bonds had surged 19% since Aug. 16, when Hichilema won a presidential election and promised a swift deal with the International Monetary Fund.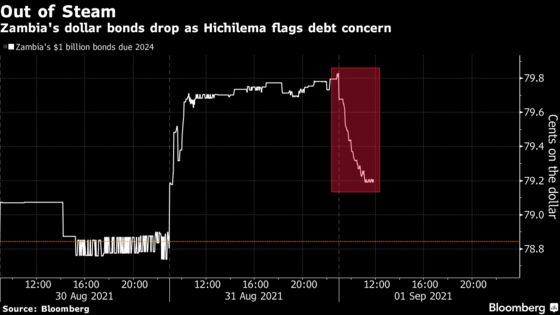 Hichilema, who took office on Aug. 24 after a landslide election victory, said in an interview Tuesday that the "debt numbers that were being talked about officially are not really the comprehensive numbers," and that his administration is working out what the true figures are. 
Debt transparency will be key in securing a deal with the IMF, as well as in restructuring talks with creditors after Zambia became Africa's first pandemic-era sovereign defaulter last year.