Yum Sales Surpass Wall Street Estimates Across Its Brands
(Bloomberg) -- Yum! Brands Inc. posted sales that beat analysts' projections as customers flocked back to its chains -- with all of the company's brands outpacing investors' expectations.
Same-store sales gained 23% globally versus analysts' projection for 17.5% growth. Using the same measure, KFC posted 30% growth, also beating the average estimate compiled by Bloomberg. Pizza Hut and Taco Bell same-store sales were also higher than expected.
The big jump in Yum's numbers is a reflection of the pandemic shutdowns from the year-earlier period. However, each division reported comparable sales growth from two years earlier -- before the pandemic -- reinforcing that U.S. restaurants are booming once again.
Internationally, the recovery is still low, however. Both Pizza Hut and KFC reported same-store sales that are still below where they were two years ago.
Chief Executive Officer David Gibbs said the company is reinstating its "long-term growth algorithm" and sees improving performance going forward.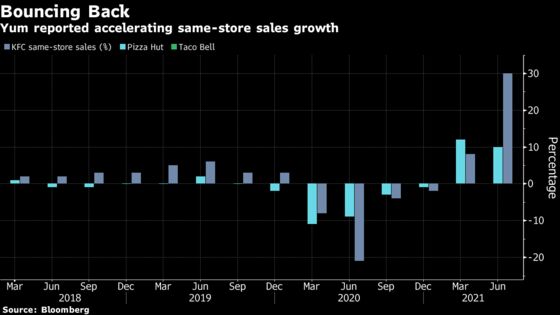 The shares rose 2.7% at 9:33 a.m. in New York trading Thursday. Yum had gained 13% so far this year through Wednesday's close.