Youngkin Sticks to School Theme in Closing Days of Virginia Race
(Bloomberg) -- Glenn Youngkin, the Republican candidate for governor of Virginia, doubled down on his themes of greater parental influence over schools and rejection of big government, at a rally just days before the Nov. 2 election.   
Youngkin, on a 10-day bus tour around the state, told several hundred voters in Augusta County in the Shenandoah Valley, that they face a stark choice between him and his Democratic rival, former Governor Terry McAuliffe:
"Over the course of the next five days, Virginians are going to decide if we are going to allow a progressive liberal big government agenda to continue to drive Virginia into the California East."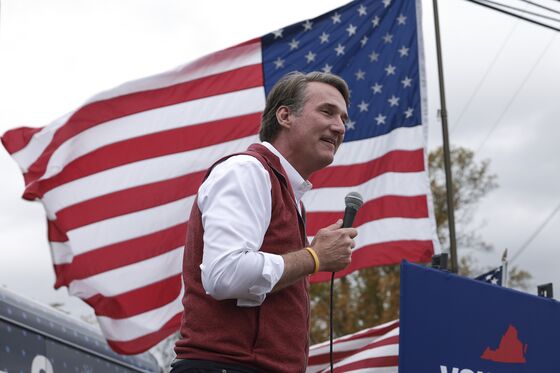 "On one side of the ballot it's Terry McAuliffe and government control and on the other side it's freedom. Terry McAuliffe wants to put government between parents and children. Terry McAuliffe wants to force everyone to join a union," he said. "Terry McAuliffe wants you to get fired from your job if you don't take the vaccine and then not allow you to collect unemployment when you get fired from your job."
Earlier, Youngkin, a former co-chief executive of the Carlyle Group Inc., told a crowd of about 150 people in Augusta about a new Fox News poll of likely voters that has him ahead of his Democratic opponent, by 53% to 45%. 
Other polls show the race as dead even or with McAuliffe slightly ahead. A USA Today/Suffolk University Poll released Tuesday showed the race deadlocked at 45% each, with 5% of likely voters still undecided. The RealClearPolitics average now has McAuliffe, a former chairman of the Democratic National Committee, leading by less than one percentage point, a drop from his five-point lead at the beginning of the month. 
Joe Biden won Virginia, a state that has favored Democrats in recent elections, by 10 points over Donald Trump in last year's presidential election. 
Thursday's stops were on the bus tour Youngkin is taking to 50 communities around the state. Despite having been endorsed by Trump he has yet to appear alongside him. The former president intends to hold a tele-rally for Youngkin on Monday, according to a person familiar with the former president's plans.
Instead, Youngkin often features Virginians angry at the status quo. His pitch centers on issues like education, gas prices and the state's tax on groceries.  
Democrats have gone scorched earth in recent weeks as McAuliffe tries to paint Youngkin as a Trump disciple. He has called in Biden, Vice President Kamala Harris, former President Barack Obama, former Georgia gubernatorial candidate Stacey Abrams, Jaime Harrison, the current chair of the DNC, as well as the music stars Dave Matthews and Pharrell Williams to urge Democrats to vote in the off-year election. 
At a rally with McAuliffe in the Washington suburb of Arlington, Virginia, on Tuesday night, Biden repeatedly assailed his former, and perhaps future, opponent, and tried to tether him to Youngkin. 
In a sarcastic reference to Youngkin's trademark campaign outfit, Biden accused him of trying to avoid any association with Trump and reminded his audience of the Jan. 6 attack on the Capitol. "Extremism can come in many forms," he said. "It can come in the rage of a mob driven to assault the Capitol. It can come in a smile and a fleece vest."