Young Brits Less Likely to Own Homes or Save Money, Study Shows
(Bloomberg) -- Young people in the U.K. are now less likely to own a home or to set aside money for savings, making it difficult for them to achieve financial stability, according to the Office for National Statistics.
The proportion of homeowners between the ages of 22 and 29 fell 10 percentage points to 27 percent in the decade to 2017, the ONS said in a report on Thursday. More than a half of Britons in that age group had no money in savings accounts in the three years to 2016, compared with 41 percent in the comparable period six years before.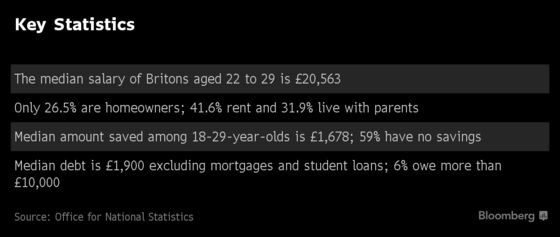 The findings may add to concerns about housing in U.K., and London in particular, where affordability constraints are weighing on the market even as property prices decline ahead of Britain's exit from the European Union. The government plans to build 300,000 new homes every year.
However, young people are now less likely to be in debt, and those who save now having as much as 1,600 pounds ($2,000) set aside on average, compared with just 900 pounds a decade ago, the ONS said.
"Clearly, not all young people face the same financial pressures," the report said.