U.S. Yield-Curve Steepening May Already Be Over
(Bloomberg) -- The brief steepening of the U.S. yield curve may have already run its course, according to UniCredit SpA.
Investors would need to make "quite aggressive" assumptions on the level of future interest rates for the Treasury yield curve to enter into a protracted period where longer-term rates rise faster than shorter ones, strategists Kornelius Purps and Chiara Cremonesi wrote in a note Friday. Alternatively, they need to assume a sudden increase in the term premium -- the extra compensation demanded for holding longer-dated debt -- and both of those are unlikely, they said.
"History suggests a high likelihood that the curve-steepening move of the past two weeks will peter out very soon," the strategists wrote. "The market turmoil of the past few days, which has led to a 8 basis points flattening of the 2-year/10-year curve, may perhaps have already been the trigger for a return to the multi-year flattening trend."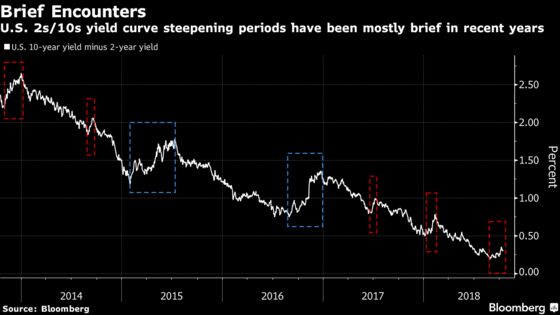 The yield on the 10-year Treasury note would have to rise by another 50 basis points, without the 2-year bond following suit, for a longer-term steepening trend to occur as in 2015 and 2016, according to the Italian bank.
With the market already pricing in a long-term key rate close to 3 percent, a raising of these expectations to 3.5 percent, given correlations to the benchmark, is unlikely, it said.
The benchmark yield has climbed almost 30 basis points to 3.15 percent since the end of August, while the yield on its 2-year equivalent is up 22 basis points to 2.85 percent. The spread between the two fell to an eleven-year low of 19 basis points on Aug. 24 before rebounding to about 30 basis points Monday.
Strategists at most of the Federal Reserve Bank of New York's primary dealers expect the spread to narrow through the first half of 2019, according to yield forecasts compiled by Bloomberg.