Yield Curve Provides Jittery Markets With a Road Map
(Bloomberg Opinion) -- Don't say I didn't warn you about fighting the Federal Reserve.
The Labor Department's employment report Friday showed American businesses added 250,000 jobs in October, beating the median estimate of 200,000 in a Bloomberg survey. Just as important, average hourly earnings advanced 3.1 percent from a year earlier, the most since April 2009. It wasn't all that surprising that Treasury yields rose, as they have for much of this week. The key difference is that the U.S. yield curve flattened significantly, with the spread between five- and 30-year debt at one point matching the sharpest intraday narrowing since June.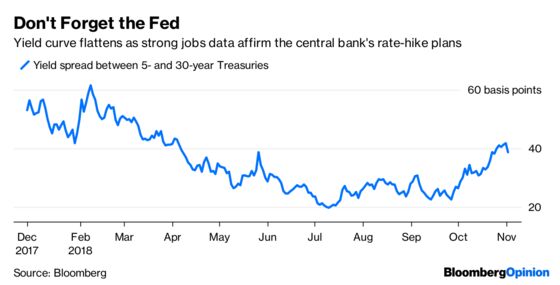 That move is the opposite of what happened during a turbulent October. The curve reached its steepest level since April this week as longer-term Treasuries sold off more than their shorter-dated counterparts. Initially after Friday's jobs data, two-year, three-year and five-year notes experienced the largest yield increases. (Long term rates eventually crept higher as traders positioned themselves ahead of next week's enlarged Treasury auctions.)
It wasn't hard to see this coming. Bond traders took their eyes off the proverbial ball — the Fed's tightening path — amid the drastic swings in the U.S. equity markets. Consider that two-year and five-year Treasury yields plunged last week by the most since June 2016. Heading into this week, I called that an "overreaction" and asked "what rationale bond traders have for expecting the Fed to slow down." This employment report all but confirmed that the central bank will press on as planned. As a result, last week's rally in short-term Treasuries has evaporated almost entirely. 
But don't just take it from me. Here's Chris Rupkey, chief financial economist at MUFG Union Bank in New York. He wrote this in an Oct. 24 note:
"Why shouldn't stocks fall nearly 10 percent? New home sales tumble on the Fed's rate hikes and promises of higher rates to come. Trump calls monetary policy loco, and the stock market is saying maybe the president is right … it looks like we are doomed."
Here's Rupkey in a note Friday after the employment report:
"The economy really cranked it up a notch in October and this will give Fed 
officials the confidence to keep raising interest rates to normal levels 
because this economy does not need the support of monetary policy to continue 
to grow. There's no serious inflation yet, but with wages starting to rise 
faster as the labor market tightens up, the Fed cannot afford to sit back and 
relax as inflation pressures build. This report shows it's just about time to 
take the punch bowl away from the party before things get too fun."
That just about sums up market sentiment right now. Bond traders haven't quite ratcheted up rate-increase expectations to where they were a month ago, but a move in December and two more in 2019 are just about priced into eurodollar futures. A post-data panel on Bloomberg TV that included BlackRock Inc.'s Rick Rieder, PGIM Fixed Income's Michael Collins and my fellow Bloomberg Opinion columnist Mohamed A. El-Erian still seemed to buy into the notion that the Fed may yet need to pause sometime next year. Scott Minerd at Guggenheim Partners tweeted that he still expects four additional rate increases next year. It remains to be seen how the stock market will interpret this good economic news in the context of further tightening of financial conditions.
For now, though, the message from the yield curve is clear: Don't let daily market volatility distract from U.S. economic data and the Fed's path forward. 
This column does not necessarily reflect the opinion of the editorial board or Bloomberg LP and its owners.
Brian Chappatta is a Bloomberg Opinion columnist covering debt markets. He previously covered bonds for Bloomberg News. He is also a CFA charterholder.