Yield Curve Isn't Lying About Next Recession, Guggenheim Says
(Bloomberg) -- Investors continue to ignore the flattening yield curve at their peril, according to Guggenheim Partners.
Despite robust economic growth in the third quarter, the $265 billion investment firm's view that the next U.S. recession will begin in early 2020 remains intact, strategists including global chief investment officer Scott Minerd wrote in a note to clients. The yield curve -- an inversion of which has preceded past economic downturns -- is a powerful signal, they said.
"While there is little risk of downturn in the near term, more restrictive monetary policy will overtake an overheating economy," they wrote. "Despite prevailing sentiment to the contrary, the flattening yield curve remains a powerful indicator of coming recession."
The prominent argument that quantitative easing has caused the curve to be unduly flat has several flaws, according to Guggenheim. It fails to recognize that net Treasury issuance, post-crisis regulatory changes and foreign exchange reserve intervention have acted in the opposite direction -- steepening the curve, they argued.
The benchmark 10-year Treasury yield has climbed about 70 basis points to 3.10 percent this year, while that on the 2-year equivalent is up 95 basis points to 2.83 percent. The gap between the two shrunk to an 11-year low of 19 basis points on Aug. 24 before rebounding to about 27 basis points Tuesday.
Wall Street rates strategists are mixed on what's next, given the past week's sell-off in the equity market, and supply dynamics ahead of the U.S. Treasury announcement on issuance this week. While Morgan Stanley and JPMorgan Chase & Co. see the curve flattening in the coming months, banks including Bank of America Merrill Lynch and Wells Fargo & Co. expect some steepening.
For Guggenheim, data about market beliefs regarding future economic activity corroborate the flattening yield curve's signal. For example, the difference between consumer confidence today and expectations for the future show respondents think current conditions may be as good as they get, the strategists said.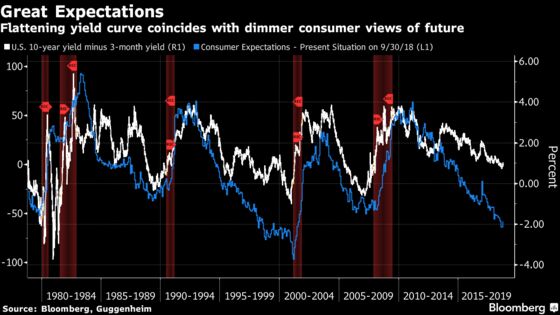 "This implied curve flattening from survey data is additional evidence that the yield curve's signal regarding our position in the cycle is not distorted," they wrote.