Yield Curve Control Bets Are Becoming More Obvious in Treasuries
(Bloomberg) -- Bets that the Federal Reserve will implement yield-curve control are showing up in positioning data and the curve itself.
The evidence is all over the belly of the Treasury curve, with yields on five-year notes falling to a record low Tuesday. Open interest in five and 10-year futures -- a tally of outstanding positions -- has surged in the past week, reaching a level equivalent to $36 billion in cash bonds.
Traders are positioning ahead of Wednesday's release of the minutes of the Fed's June 10 meeting, which may shed light on the central bank's readiness to try curve control. Meanwhile, Fed Chair Jerome Powell is slated to address a congressional committee at 12:30 p.m. in Washington. More than half of the economists surveyed by Bloomberg earlier this month expect YCC, with most saying an announcement could come in September.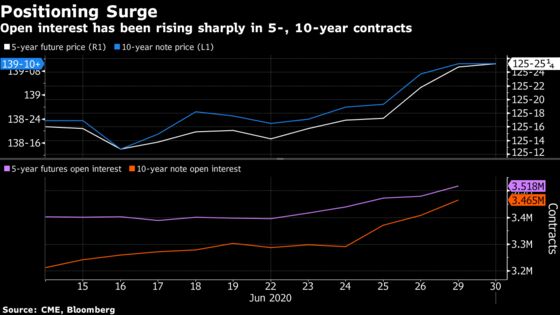 The strategy, which involves using bond purchases to cap yields on certain maturities at a specific level, was once deemed an extreme and unusual measure. That perception changed after Australia adopted its own version in recent months, following a similar move by the Bank of Japan four years ago, after failing to end a two-decade deflationary spiral.
Investors say a global adoption could spark a "buy everything" rally. The economic outlook probably doesn't yet justify a similar announcement by the Fed though, according to Rabobank International strategist Richard McGuire in London. Despite a jump in Covid-19 cases in the U.S. equities remain relatively buoyant.
"There's a dead-cat-bounce effect in the data," he said. It "supports the glass-half-full notion of V-shaped recovery expectations, even though our view is that those expecting this will see the 'V' was the first part of a 'W."
Open interest in Treasury five-year note futures has jumped by more than 120,000 contracts in the past five trading sessions -- equivalent to around $13 billion in cash bonds.
The 10-year note contract, which currently tracks a seven-year maturity, had an open-interest increase of nearly 180,000, or $23 billion in cash bonds.
Read More:
Vanishing Returns Haunt New Adherent to Yield Curve Control
In the Bloomberg economist survey, the expectation is that the Fed will target two- or five-year maturities if the central bank implements yield-curve control. Two weeks ago, Powell told lawmakers that officials were in the early stage of evaluating the option, and haven't yet come to a decision.
Five-year yields extended their drop to a record 0.2642% on Tuesday.
Overnight swap markets show that rate expectations remain above levels priced in May. That suggests the recent activity is about preparation for yield-curve control rather than wagers on the Fed taking its policy rate negative.