Yeti Analyst Quiet Period Ends Just in Time for the Holidays
(Bloomberg) -- Yeti Holdings Inc., the maker of pricey, durable coolers and beverage holders, among other outdoorsy gear and apparel, may get a chance to rebound from a sluggish debut on Wall Street as a round of sell-side analysts likely weigh in with their opinions of the company and its stock.
On Nov. 19, initiations are likely to be published by lead underwriters Bank of America Corp., Morgan Stanley and Jefferies Financial Group Inc. as the quiet period expires for analysts. Banks that manage an initial public offering tend to be more bullish on a company's prospects. Other banks that had a hand in taking the Austin, Texas-based company public include Baird, Piper Jaffray, Citigroup, Goldman Sachs & Co., KeyBanc Capital Markets, William Blair, Raymond James, Stifel and Academy Securities.
Yeti, which went public on Oct. 24, initially submitted an IPO application to the Securities Exchange Committee in 2016, but that filing was withdrawn in March of this year, with Yeti citing market conditions.
But when Yeti did finally offer its shares to the public last month after a September application, conditions apparently hadn't improved all that much. At least not for a cooler company. It sold fewer shares than expected (16 million versus the 20 million marketed range) and at a lower-than-hoped share price ($18 each versus an expected $19 to $21).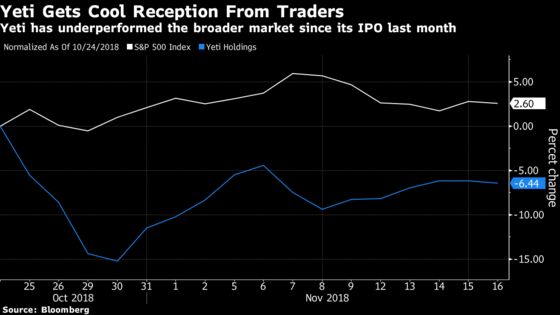 Shares have fallen even more since the debut. Perhaps investors were looking at the company's financials. Yeti's 2017 net income and net sales dropped to about $15 million and $639 million, respectively, from $49 million and $819 million just a year earlier. But Yeti appears to have had a better start in 2018, with six-month net income of $15.6 million on net sales of $342 million.
Meanwhile, Yeti is banking on Santa being kind in the second half of the year, delivering lots of $35 Yeti beverage holders or $300 backpacks to good boys and girls everywhere.