Yen's November Gains Evaporate as Two-Year Spread Widens
(Bloomberg) -- The yen has given up all of its November gains versus the dollar as the yield differential between U.S. and Japanese bonds widens.
The spread between rates on two-year Treasuries and Japanese government bonds reached the highest level in 2021 at about 63 basis points on Wednesday, as higher-than-estimated U.S. consumer price data helped spur a rise in Treasury yields. That's underpinned broad gains in the greenback and a stunning reversal in the yen's fate.
Japan's currency was the best performer against the dollar among Group-of-10 counterparts this month as of Tuesday's close. On Wednesday, the yen fell almost 1% versus the dollar in its biggest drop in a month, erasing November's gains.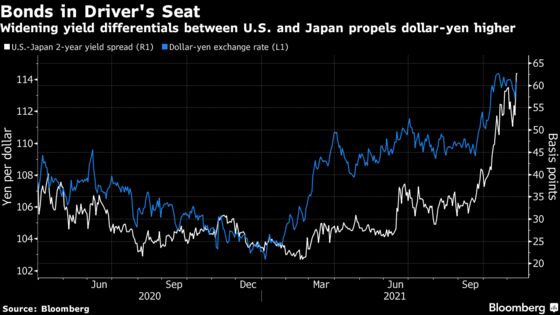 The widening two-year spread is a "wake up call" for the dollar-yen pair after it traded as low as 112.73 on Tuesday, Brown Brothers Harriman's Win Thin wrote on Wednesday. It was trading at 113.88 on Thursday morning in Tokyo. 
"USD/JPY remains stuck below 114 but should eventually participate in the dollar rally as U.S. rates move higher," he said. 
Analysts in Tokyo see less scope for further dollar strength.
The overnight move was largely due to a broad dollar rise and the yen was in the middle of the G-10 pack in terms of weakness, said Tohru Sasaki, head of Japan markets research at JPMorgan Chase & Co.
"Dollar-yen is unlikely to advance further on expectations for rate hikes as it's difficult to see markets pricing in more than what they have already - more than two next year," Sasaki said. "The pair has faced stubborn resistance at 115 for years, and there is still speculative yen short positions that haven't been wiped out."