Senators Rip Execs on 'Unaffordable' List Prices: Pharma Update
(Bloomberg) -- Top executives from seven of the world's biggest drug companies are testifying before Congress Tuesday to talk about drug costs, a long-awaited session that could kickstart legislation to rein in prices. Appearing before the Senate Finance Committee are representatives from Sanofi, AbbVie Inc., AstraZeneca Plc, Bristol-Myers Squibb Co., Johnson & Johnson, Merck & Co. and Pfizer Inc.
Investors Shrug Off Senate Finance Drug Hearing (12:50 p.m.)
Investors in large-cap drugmakers were largely unfazed by remarks from senators including Iowa's Charles Grassley and Oregon's Ron Wyden, with a basket of the most notable companies performing in line with the broader market.
The S&P 500 Pharmaceuticals Index, which houses heavyweights including Bristol-Myers Squibb Co. and Pfizer Inc., traded incrementally higher in afternoon trading as investors shrugged off questioning of top pharma executives. The group briefly faded with remarks from Wyden that triggered some initial unease.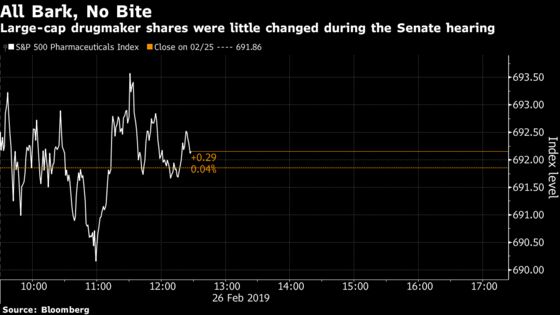 Shares of Humira maker AbbVie Inc. -- which was directly attacked by Michigan Senator Debbie Stabenow for the large number of patents it keeps on the rheumatoid arthritis treatment -- actually traded higher as the hearing continued. It's among the top-performing health companies in the S&P 500. Drugmaking peers Vertex Pharmaceuticals Inc., which dominates the market for cystic-fibrosis medicines, and Regeneron Pharmaceuticals Inc. rallied.
Senators Focus on AbbVie's Humira Patents (12:10 p.m.)
The senators homed in on Humira, AbbVie's star drug and one of the best-selling medicines in the world, with $19.9 billion of revenue in 2018 and 8.2 percent increase from the year earlier. Senator Debbie Stabenow, a Michigan Democrat, said if Humira were a company on its own, it would be in the Fortune 500.
Part of how AbbVie has been able to continue to grow those sales is through its patents on the rheumatoid arthritis treatment. Chief Executive Officer Richard Gonzalez said AbbVie has 136 patents on Humira.
"That patent portfolio evolved as we discovered and learned new things about Humira," Gonzalez said. The main patent, known as the composition-of-matter patent, expired in 2016, but the company was able to continue to protect the drug with patents for uses for new diseases.
Senator John Cornyn, a Texas Republican, said he would suggest the Judiciary Committee look into patents. He questioned Gonzalez about the patent thicket that keeps low-cost competition for Humira off the market. Cornyn also sits on the Judiciary Committee.
"At some point that patent has to end, that exclusivity has to end so that patients get access to drugs at a much cheaper cost," Cornyn said.
Senators Rip 'Unaffordable' Drug List Prices (11:40 a.m.)
Senators kept the focus on drugmakers' list prices at the hearing, pressing top pharmaceutical executives on whether the steps the industry is proposing would result in lower upfront prices for medicine.
"These list prices, which you have the last word as to what they are, are unaffordable," said Senator Ron Wyden, the panel's top Democrat. "All of this other stuff is window dressing."
In response to questions, almost all of the seven companies at the hearing said that if rebates paid to pharmacy-benefit managers were eliminated, they would cut their list prices.
"I would expect our prices would go down if we changed the system on the commercial side as well as the government side," said Merck Chief Executive Officer Ken Frazier.
Wyden Blast Drugmakers for 'Empty Gestures' (11:05 a.m.)
Senator Ron Wyden of Oregon criticized pharmaceutical companies for making only "empty gestures" to halt prices last year following pressure from the administration of President Donald Trump.
"Pfizer gets first prize for the emptiest gesture on drug pricing in 2018," said Wyden, the ranking Democrat on the panel. He noted that the company had resumed price hikes in January.
Pfizer was the most prominent company caught up in the battle over drug prices in 2018. In July, Trump singled it out for raising prices on more than 40 drugs, causing the company to hold off. It then said in November it would resume raising prices in mid-January, though by less than earlier planned.
"Merck gets second prize," Wyden said, adding that the drugmaker left untouched its "cash cows," cancer drug Keytruda and diabetes treatment Januvia, when it lowered some prices. They bring in more than a quarter of the company's revenue.
Pharma Takes Heat on Prices as Hearing Opens (10:15 a.m.)
Drugmakers placed much of the blame for high drug prices on other health-industry players, falling back on a frequently used explanation that's likely to be challenged by lawmakers.
Senior executives from seven pharmaceutical giants appearing before the Senate Finance Committee on Tuesday proposed far-reaching changes to how drugs are paid for in the U.S., including incentives to increase use of cheaper versions of costly biotechnology treatments and more financial help for patients.
In prepared remarks, the officials also reiterated a familiar grievance -- that pharmacy-benefit managers and health insurers keep negotiated discounts on prescription drugs for themselves rather than pass them to patients, according to written testimony submitted to the committee.
The Politics of Drug Prices
While the Trump administration has laid out a number of steps to reduce prices, such as proposing changing PBM rebates and approving more generic drugs, some of the biggest steps would likely take an act of Congress.
Drug prices are one of the few areas where the Trump White House and Democrats in Congress may work together. The administration is proposing an "international pricing index" that would peg prices to those paid by nationalized health services, which have kept prices consistently lower than in the U.S., including by barring access to some more expensive medicines.
Alex Azar, Trump's secretary of Health and Human Services, has made it clear that he and the president want lower costs for patients across the board, but that any solution must include lower drug prices.