WWE Executive Exits Spook Analysts and Erase $1 Billion in Value
(Bloomberg) -- World Wrestling Entertainment Inc. plunged as much as 28% on Friday, erasing more than $1 billion in market value, after Chief Executive Officer Vince McMahon ousted two of the company's top executives.
The news prompted multiple downgrades on Wall Street as several analysts said they have lost confidence in the company's financial projections. The stock drop was WWE's biggest decline in nearly six years, sending the shares to their lowest levels since May 2018.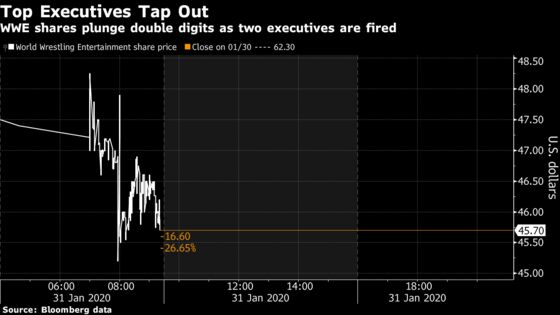 Evercore ISI, John Belton
Belton cut his rating to in line from outperform and reduced his price target to $50 from $80, saying "the release announcing the changes was vague."
He believes the timing of these developments, which follow months of uncertainty surrounding several key strategic and financial initiatives, may imply expectations for 2020 adjusted operating income must be cut further. McMahon cited "different views on how to best achieve strategic priorities moving forward" as the reason for the changes.
Gould cut WWE to hold from buy, saying he has "diminished confidence" in his estimates given the sudden change. His price target on the stock is now $50, down from $80.
He believes McMahon "was not pleased with the results of the international TV deals" and "wanted to reinvest more of the growing cash flow back into the business."
Gould lowered his 2020 estimate for adjusted earnings before interest, tax, depreciation and amortization, also known as Ebitda, to $350 million from $390 million. He sees room for number to be less "depending on how successful the renegotiation of the international contracts were and the level of discretionary investment spending."
Bazinet said Wall Street "may interpret the departures as a new risk to consensus 2020 Ebitda forecasts."
He suspects that the co-presidents "may have wanted to gradually reinvest incremental US media rights revenues, while Mr. McMahon may want to make more aggressive investments."
MKM Partners, Eric Handler
Handler was more optimistic, saying "a change in the C-Suite does not necessarily mean more bad news is coming." He has a buy rating on WWE and a $92 price target.
"Given the known step-up in the domestic TV rights deal, we do not believe the company is in a 'precarious' financial position."