WWE Accused in Suit of Using Illegal Moves to Maintain Chokehold
(Bloomberg) -- World Wrestling Entertainment Inc. and its boss Vince McMahon were accused in a lawsuit by a rival startup of using illegal moves to maintain their chokehold on the big-money world of professional wrestling.
WWE poached wrestlers from rivals, stole confidential information and sabotaged lucrative television contracts, according to the lawsuit filed Tuesday by MLW Media LLC, also known as Major League Wrestling.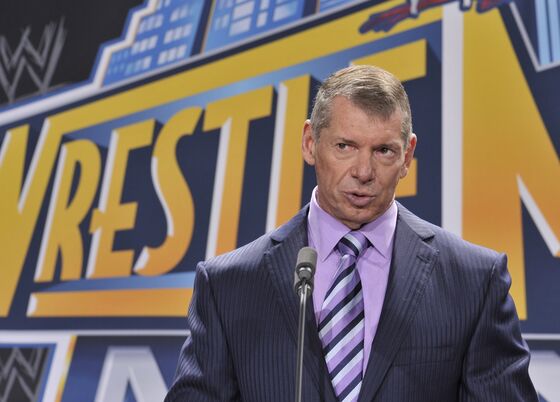 "WWE's pattern of predatory and exclusionary conduct has hampered competition in the U.S. wrestling market by depriving MLW and other competitors of distribution channels, and its conduct has harmed consumers by depriving them of content and keeping prices high," the startup's lawyers said in the suit.
WWE has dominated professional wrestling since it acquired its biggest competitor, World Championship Wrestling, in 2001, and according to the complaint controls 85% of the market. It had an estimated $1.1 billion in revenue last year, and a market capitalization close to $4 billion, according to Bloomberg data.
WWE denied MLW's allegations, saying in a statement that the claims have no merit and it will fight the lawsuit. McMahon, the chief executive officer, didn't respond to a request for comment.
MLW claims that it was on the verge of finalizing a streaming contract with Vice TV last year but when WWE found out one of its executives called Vice saying McMahon was "pissed." Following the call, Vice withdrew from talks with MLW and ended up airing only one of its shows, according to the complaint.
A similar takedown involved Tubi, a streaming service owned by Fox Corp., MLW said.
Tubi and MLW had planned to announce an agreement that would give the wrestling startup "exposure to Fox's broad television and NFL football audience," according to the lawsuit.
But a few days before a planned press conference, WWE executive Stephanie McMahon, Vince McMahon's daughter, put the deal in a strangle hold, MLW claimed.
"Ms. McMahon initially pressured the Tubi executive to deny MLW a time slot that would compete head-to-head with WWE's NXT programs on Tuesday nights," according to the complaint. "But Ms. McMahon ultimately pressured the Tubi executive and other senior executives at Fox to terminate the agreement in its entirety."
The loss of the contract "reversed the momentum the company had been generating with fans" and cut off its access to "a broader fan base," MLW said.
The suit is MLW Media LLC v. World Wrestling Entertainment, Inc., 3:22-cv-00179, U.S. District Court, Northern District of California (San Francisco).