The Swedish Krona Had the Worst Start to the Year Since 1993, and It's Not Over Yet
(Bloomberg) -- The Swedish krona's worst start to a year since 1993 may be just the beginning.
The slump may have more to go as incoming data suggest a deteriorating economic climate in the Scandinavian nation, according to Nordea Bank Abp. The krona lost 2.1 percent versus the euro this month, its worst January performance in 26 years, as investors bet that an interest-rate increase by the Riksbank isn't imminent.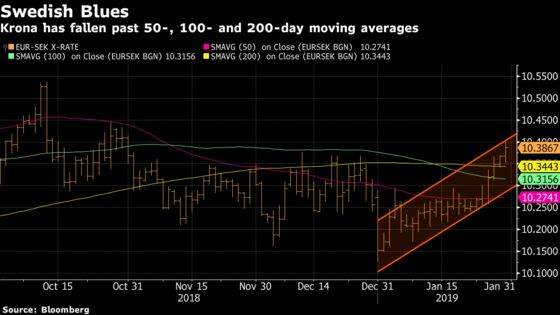 The outlook for Scandinavia's biggest economy has dimmed after reports including an economic-tendency survey and retail sales showed unexpected weakness. That is casting doubts on predictions in a Bloomberg survey for the krona to beat peers by rallying over 4 percent by year-end.
"The market may price out some of the Riksbank tightening in the short term due to what seems like a very weak first quarter and that may weigh on the krona," said Anders Eklof, a strategist at Swedbank AB, which cut its 2019 growth estimate for Sweden this week. "There is no obvious reason to buy the krona currently."
The recent soft patch in data has sent an economic surprise index for Sweden to levels unseen since March 2018, according to Nordea. A model based on the gauge's correlation with the krona -- a popular funding currency -- suggests it could fall as low as 10.54 per euro before any recovery, according to Martin Enlund, a strategist at the bank. The krona traded around 10.37 Thursday afternoon.
The krona's near-term outlook may hinge on the Riksbank's next policy announcement, scheduled for Feb. 14, according to Swedbank.
"If the Riksbank communicates in that it still plans to raise rates in the second half of the year, despite the risks to the outlook, that would set the krona up for a broad 10.15-10.40 range," strategist Anders Eklof said. "If they lower their rate path, then we see it" trading weaker, he said.
The krona's decline this month goes against a seasonal pattern of gains in January. This may be partly because the recent losses were a reversal of a 1 percent on Dec. 31, which was unusual for the low-turnover conditions typical of year-end.
While the currency has fallen in the spot market, option volatility has declined -- this divergence may see a correction in the near term, according to Karl Steiner, a strategist at SEB AB. The implied volatility on one-month euro-krona options has slid 114 basis points this month to 5.53 percent, near the lowest since March 2018.
"Current volatility levels are so depressed that chances are we will see a burst higher," he said.