World's Worst Stocks Have More to Worry About Than Coronavirus
(Bloomberg) -- For Brazilian stocks, the world's worst-performing this year, you can't blame all the bad returns on the Covid-19 pandemic.
Down 47% in U.S. dollar terms, the Ibovespa index is trailing some 90 other major equity benchmarks tracked by Bloomberg. With about 1.5 trillion reais ($280 billion) wiped out in market value since its January peak, the lost wealth is equivalent to about 20% of the country's gross domestic product.
True, the coronavirus crisis may be sending the economy toward one of the worst recessions in decades and has sparked waves of cuts in earnings estimates. Yet what can't be ignored is a sudden deterioration in Brazil's political landscape and how it may jeopardize the nation's reforms that are seen as key for sustaining long-term growth in Latin America's biggest economy.
In less than two weeks, two top ministers left the government and the nation's top court gave the green light for a probe into allegations that President Jair Bolsonaro tried to interfere with police investigations. The fiscal outlook isn't inspiring either. As Brazil suspends its efforts to shore up public accounts to tackle Covid-19's adverse effects, some asset managers expect the country's debt-to-GDP ratio to surpass 90% this year. Some investors fear that the increase in government spending may not be temporary, leading to even higher debt levels.
"The reform agenda has lost momentum," Itau BBA strategists led by Pablo Ordonez wrote in a report from April 21, citing increased political risk on the back of conflicting views between the executive and legislative branches.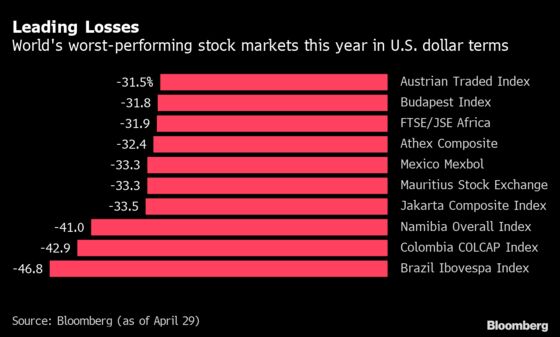 Sentiment has quickly worsened amid the sell-off, with strategists cutting their targets for the Ibovespa index at a furious rate. The benchmark measure -- currently at 83,300 -- is now expected to close at 89,400 by the end of the year, according to the average estimate of nine strategists surveyed by Bloomberg. That's down 32% from December's poll.
Still, that implies a gain of about 7% from current levels. With central banks around the globe rushing to rescue financial markets and their economies, a low-rate environment is expected to keep supporting stocks. Brazil's benchmark interest rate, already at a record low, is likely to be cut again when the central bank meets next week to set policy.
There's been some signs of hope over the past few sessions, with a three-day rally as Bolsonaro has publicly supported Economy Minister Paulo Guedes.
Strategists' Ibovespa Index Estimates for Year-End 2020 (Table)
David Beker, a strategist at Bank of America, expects the Ibovespa to end the year at 76,000. That's the lowest among strategists tracked by Bloomberg and a 9% decline from current levels.
The market is vulnerable this reporting season, Beker said, particularly industries hit by the virus, such as retailers and airlines, and companies having exposure to them, like banks.
Amid scrapped guidances, delayed investments and closed stores due to lockdown measures, earnings estimates have been falling. Materials and consumer discretionary saw the greatest downward revisions over the past month, according to data compiled by Bloomberg.
"We see room for disappointment," Beker wrote in a report.