World's Worst Currency Finally Manages to Post a Breakout Month
(Bloomberg) -- Argentina's peso, the world's worst-performing currency this year, finally had a breakout month -- and what a month it's been.
Amid weeks of emerging-market tumult stretching from Shanghai to Sao Paulo, the peso jumped more than 14 percent against the U.S. dollar in October, the most since data first became available in 2003. It wasn't the only currency to go to hero from zero: Brazil's real and Turkey's lira ranked right behind it for the month.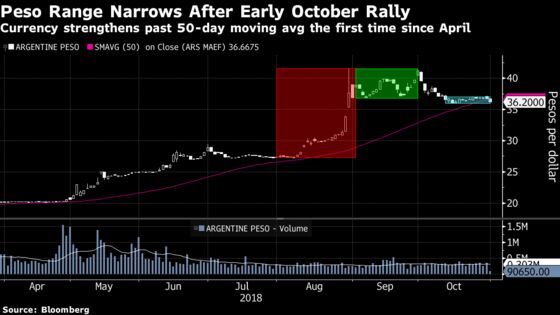 Yes, the peso is still the globe's laggard this year, down by almost half against the U.S. dollar, and the real and lira have also lost ground since January. For now, though, a wholesale policy shift by Argentina's central bank and a $57 billion credit line from the International Monetary Fund have sparked a peso rally and stifled its gyrations.
One-month historical volatility sank by more than half in October, sliding to about 15 percent on Wednesday from 35 percent at the end of September. While the peso still ranks among the most volatile emerging-market currencies, its swings are now below peers such as the lira and real, also a reversal from last month. (In case you're wondering, implied volatility, the more usual and forward-looking way to measure a currency's relative stability, doesn't apply to the peso case given the lack of a functional options market.)
READ: Argentine Peso's Swings May Ease Further After September Decline
That's not to say the peso's stability has come without pain. Argentina's benchmark seven-day Leliq notes rate has hovered above 70 percent for much of the month, and real interest rates are above 20 percent even if you factor in the nation's whopping 40 percent inflation. That compares with Turkey's real rate of almost zero and Brazil's of less than 2 percent.
Argentina's central bank can claim most of the credit. Since late September, when authorities unveiled a 34-44 per dollar trading band and promised not to intervene as long as the range is respected, the peso hasn't ventured close to either side, giving policymakers less of a reason to step in. In a further effort to shrink the monetary base, the bank is also holding daily Leliq auctions.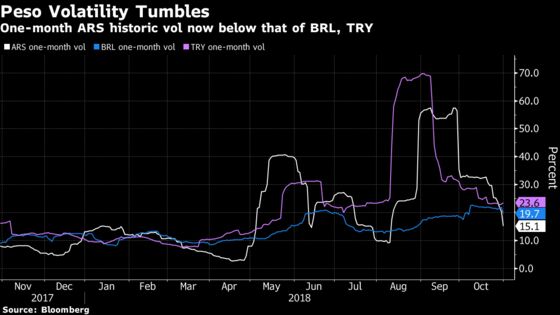 NOTE: George Lei is an FX strategist who writes for Bloomberg. The observations he makes are his own and not intended as investment advice
Some information comes from FX traders familiar with the transactions who asked not to be identified because they are not authorized to speak publicly