World's Steepest Yield Curve Set to Fade as Hungary Doves Waver
(Bloomberg) -- The most stubborn dove in eastern Europe may finally be ready to follow the procession of central bankers lifting interest rates across emerging markets, according to Amundi Asset Management's Hungarian unit.
Rate setters in Budapest may track the European Central Bank's expected move in the second half of next year, but a drop in global risk appetite or an uptick in the U.S.-China trade war could trigger tighter policy in Hungary before then, says the local division of Europe's largest asset manager. That would spell the end of ultra-low short-term borrowing costs that have created what may be the steepest yield curve in the world.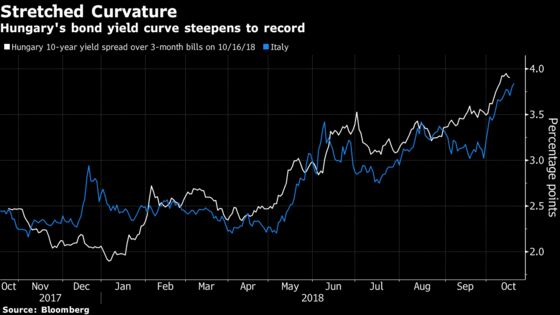 "We have an extremely steep curve and my expectation is that this won't stay with us for a very long time," said Gergely Forian-Szabo, the head of portfolio management at Amundi's Hungarian unit, which oversees 800 million euros in assets ($916 million). "I expect some flattening of the curve, and it will depend on the exchange rate whether it will be bullish or bearish."
Hungary's monetary policy stands apart from that of its eastern European peers and the warped curve is a legacy of years of stimulus delivered via the National Bank's increasingly elaborate set of policy tools. The Czech Republic is leading the charge on higher rates in the region, and Romania is also hiking along with more volatile peers such as Russia and Turkey.
Hungarian policy makers signaled in September that they're ready to undertake a cautious normalization of policy. At the same time, they insist a dovish stance is needed for now to hit a 3 percent inflation target next year.
While shorter rates have largely been anchored near zero in Hungary for the last two years, longer maturities have shown more volatility amid a sell-off in emerging markets, a pickup in inflation and the central bank's on-again, off-again steps aimed at lowering long-term borrowing costs.
The steepness, measured as the spread between Hungary's 10-year yield and 3-month bill yield, rose to 395 basis points last week, a record. That's more than debt-ridden Italy's spread of about 375 basis points and 330 basis points for Peru.
Forian-Szabo says he's watching the forint exchange rate to assess when the flattening may come, and when the central bank will start tightening. Any depreciation beyond 330 per euro could make policy makers uncomfortable, he said. The forint was trading little changed at 323.39 per euro on Friday after slipping to a record-low 330.75 in early July.
Weakness could come from a deterioration in risk appetite toward emerging markets, regional concerns over the escalation of trade wars or European political risk, or investors turning away from the currency due to its thin carry, he said. If those dangers don't materialize, policy makers will probably wait until the second half of next year and the start of euro-area rate hikes before kicking off their own tightening.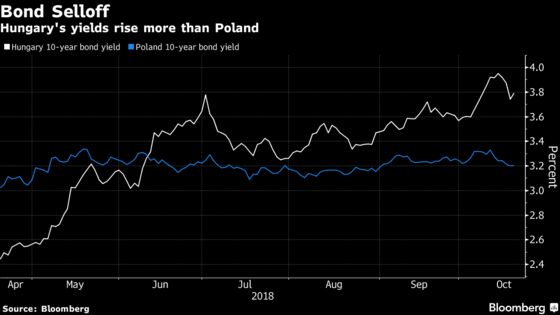 A recent sell-off in Hungarian bonds may have pushed yields to exaggerated levels, according to Forian-Szabo.
Even with a recovery this week, Hungary's 10-year yield has jumped 25 basis points this month, fueled mostly by concern over September inflation data that exceeded analyst and central bank forecasts. That compares with a 2 basis-point increase in Poland and declining yields in the Czech Republic over the period.
"The increased difference between Hungary and Poland in long-term rates reflects more concerns than would be justified," said Forian-Szabo. "Hungary could outperform Poland in the next 12 months."