World's Best-Performing Currency Gets Boost From Trade Optimism
(Bloomberg) -- Optimism about Mexico reaching a Nafta trade deal with Donald Trump is making the peso the hottest currency in the world.
The currency has rallied about 7 percent this month, the most among more than 140 peers tracked by Bloomberg, as concern about leftist presidential election winner Andres Manuel Lopez Obrador gave way to optimism about his economic pragmatism and expectations for a potential trade deal. President Trump has been negotiating with Mexico and Canada for more than 11 months to update the pact, which he said has been a "terrible deal" for the U.S.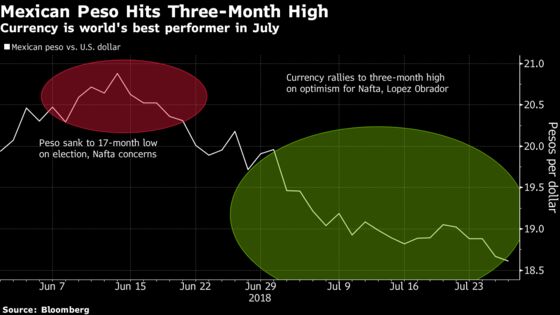 The peso extended gains to a three-month high after Bloomberg reported Mexico is targeting a deal next month, Trump said he's headed toward a "dramatic" deal with the nation and U.S. Trade Representative Robert Lighthizer said talks could wrap up in August.
The relationship between Trump and Lopez Obrador seems to be friendly in the early days, with Trump calling Mexico's next president "a terrific person," and Lopez Obrador saying that Trump is someone who knows how to deliver on his promises.
"This news that the accord could be in August is definitely helping the peso," said Juan Carlos Alderete, currency strategist for Banorte-IXE. The Trump-Lopez Obrador relationship "has been very positive, the comments from both sides, and that has helped to reduce nervousness."
High-level Nafta negotiations are resuming this week after a two-month hiatus for Mexico's July 1 presidential elections. While the nations had said progress was made earlier this year, the pact's future hangs in doubt. Trump last week repeated his threat to pursue individual deals with Mexico and Canada, and the three nations still remain far apart on major points almost a year after the negotiations first began.
Mexican and Canadian officials on Wednesday said they are optimistic they can reach a Nafta deal with the U.S. in the next several months, even amid sticking points on car production, an automatic expiration clause and Trump's threats to impose tariffs on foreign vehicles.
Still, the peso may have overshot in its optimism. Analysts surveyed by Bloomberg expect the currency to drop 4.7 percent by the end of the year from its current level, the biggest decline among the currencies tracked by Bloomberg. Alderete expects the peso to end the year around its current level, near 18.6 per dollar.