World's Best-Performing Currency Cools Ukrainians' Lust to Leave
(Bloomberg) -- For Bohdan Myts, the strength of Ukraine's hryvnia was a bonus as he quit a construction job in Poland and moved back to his homeland.
The 31-year-old returned to the former Soviet republic in April for similar work, with the currency jump meaning he can buy more pricey imported goods, as well as U.S. dollars -- a popular store of wealth for many Ukrainians after multiple boom-bust cycles since communism fell.
"Due to hryvnia appreciation, my salary in Ukraine is rising," Myts said.
This year's world-beating hryvnia rally may be helping persuade more Ukrainians that the grass isn't greener beyond the country's borders.
The aftermath of Russia's 2014 annexation of Crimea and the Kremlin-backed war that erupted later and persists today prompted millions of workers to seek higher salaries elsewhere. Visa-free travel to the European Union, which began in 2017, quickened the exodus.
But there are signs that emigration is slowing. Having spiked as Ukrainians sent cash home from places like Poland and the Czech Republic, growth in remittances has decelerated in 2019. In the absence of reliable population data, the slowdown may be the best indicator as to what's happening.
"The hryvnia appreciation seen this year -- as well as the rapid growth in Ukrainians' nominal wages over the past few years -- is a strong driver slowing labor migration," central bank Deputy Governor Oleg Churiy said. "Our citizens are notably less interested in looking for work abroad."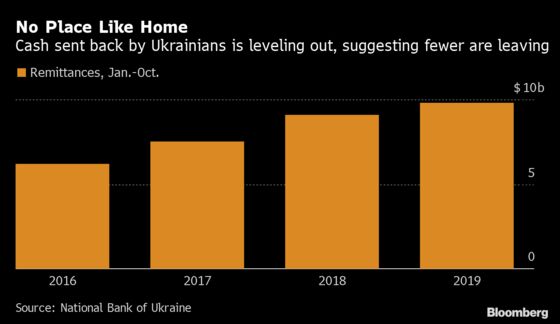 While Polish wages were four times the equivalent in Ukraine in 2016, they're now just 2.5 times, according to the central bank, which also said there have been fewer internet search requests for employment abroad.