World Cup TV Rights Bids in Spotlight at Swiss Bribery Trial
(Bloomberg) -- Swiss prosecutors pursuing bribery charges against a top FIFA administrator spent Thursday questioning why soccer's governing body couldn't find competitive broadcast bids for several World Cups, usually the most viewed live global event.
Markus Kattner, FIFA's finance director until 2016, said he couldn't explain why there weren't other bids before the organization awarded Qatar-based BeIn Media Group the exclusive broadcasting rights for Middle East and North Africa for the 2026 and 2030 competitions. Kattner, who isn't accused of wrongdoing, was testifying on the fourth day of the trial of FIFA's ex-secretary general, Jerome Valcke, and two others.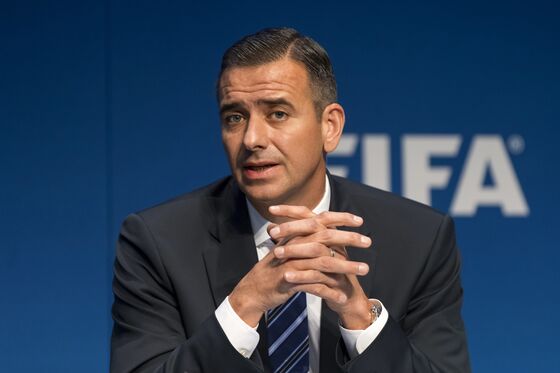 Swiss authorities are trying to dig into the behind-the-scenes negotiations for hundreds of millions of dollars in broadcasting rights that are awarded for every World Cup. Swiss and U.S. prosecutors organized raids of senior FIFA executives' hotel suites in Zurich in 2015 amid probes into corruption allegations at the organization.
Kattner largely batted away questions from prosecutor Joel Pahud on Thursday at Switzerland's Federal Criminal court, saying that it was his colleagues in the legal and media rights departments that were best positioned to answer.
Pahud persisted, pointing out that Kattner's signature along with Valcke's was on a contract that gave BeIn Media the broadcasting rights to the 2026 World Cups for $210 million and to the 2030 edition for $270 million. Kattner should know about the situation because FIFA's finance committee held a meeting in Brazil in 2013 from which it presented a report saying there was "no tender nor discussions with others," the prosecutor said.
Pahud asked Kattner if FIFA would have earned more if there had been a competitive bidding process.
"I don't have a specific memory of the contents of this contract, neither on the question of whether the amounts would have been more favorable to FIFA," Kattner said. "But I'm sure that the TV director did the best he could."
Valcke is accused of accepting bribes in return for favorable treatment in the selection of Italian and Greek media rights for the 2018 and 2022 World Cups.
Asked about the bidding process for those tournaments, Kattner again said Niclas Ericson, FIFA's former television rights director, was better placed to answer the questions.
During questioning Thursday afternoon, Ericson said the awarding of most media rights contracts were preceded by a tender offer but there were exceptions.
"There were no fixed criteria" for deciding these exceptions, he said. Valcke, Ericson said, did have the ability to decide on making an exception.
"As I understood it at the time, yes, the secretary general could take such decisions but it was presented to committees as well when, as far as I recall, there was an exception," said Ericson, who isn't accused of wrongdoing in the case.
Asked if he could recall any World Cup contracts that didn't go for tender, Ericson said he remembered the Middle East and North Africa rights for the 2026 and 2030 tournaments, and "one more such contract...," before pausing and adding, "yes, I don't recall more at this time, no."
Asked to clarify, Ericson said he didn't recall another.
Valcke is also accused of failing to tell FIFA about other financial assistance he received in return for securing BeIn Media the 2026 and 2030 media rights.
Valcke and the two other men facing charges deny the allegations.
Valcke testified on Tuesday and Wednesday that the funds he received were personal loans -- not bribes as alleged -- to help him out of debt and that the separate financial assistance he received to buy a Sardinian villa was personal and unrelated to FIFA.
BeIn Media Chairman Nasser Al-Khelaifi is charged with inciting Valcke not to report the help he got to secure the villa. The court on Wednesday was shown a text message Valcke sent to his wife and an email he sent to the broker for the villa indicating that Al-Khelaifi was the buyer.
Al-Khelaifi, who is chairman of Paris Saint-Germain, one of France's biggest soccer teams, responded that he hadn't sent the text message to Valcke and had never spoken to the broker. The charges against Al-Khelaifi are "manifestly artificial and lacks basis in law or fact," his lawyers said at the outset of the trial.
The third man, Greek businessman Dinos Deris, isn't attending the trial because he is unwell, and is being tried in absentia. Deris is charged with bribery for 1.25 million euros he allegedly paid Valcke in exchange for favorable treatment of his bid for Greek and Italian media rights for 12 years of tournaments.