World Bank Says It May Raise Thai Economic Growth Forecast
(Bloomberg) -- The World Bank may boost its projection for economic growth in Thailand, where the pace of expansion hit a five-year high last quarter.
A stable outlook and signs that Thai companies are investing again domestically are among the positive factors for the second-largest economy in Southeast Asia, said Ulrich Zachau, the World Bank's director for Thailand and regional partnerships. The lender's current estimate is for a 4.1 percent climb in gross domestic product in 2018.
"We may update our projections again -- we may raise them -- depending on further developments and further outcomes," Zachau said in an interview in Bangkok on Tuesday. "Does Thailand have the potential to grow significantly above 4 percent? We believe yes. It will depend on structural reforms."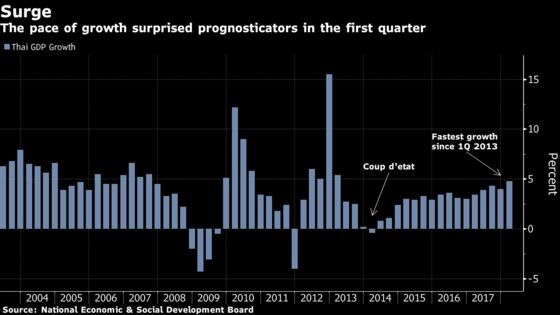 Thailand must improve education standards, make public-sector management more efficient and tackle the challenge of an aging population to help raise the pace of expansion to 5 percent to 6 percent, Zachau said.
GDP rose 4.8 percent in January through March from a year earlier, exceeding all estimates in a Bloomberg survey, powered in part by tourism, exports and rebounding farm output.
Some economists expect the Bank of Thailand to start increasing interest rates later this year following the acceleration in both growth and inflation.
The central bank could consider adjusting the policy rate if the Federal Reserve continues raising borrowing costs, Kobsak Pootrakool, a minister in Prime Minister Prayuth Chan-Ocha's office, said in Bangkok on Thursday.
The pace of economic expansion in the first quarter was the fastest under the military government that seized power in a coup in 2014. Prayuth has said an election will be held in February next year.