Work From Home? You Probably Still Have a Job
(Bloomberg) -- Record unemployment in April, like most of the impact of the deadly coronavirus epidemic, did not hit all Americans equally. 
Jobs that aren't compatible with telecommuting were among the hardest hit, while industries with more work-from-home capabilities had some of the lowest unemployment rates, according to the U.S. Bureau of Labor Statistics.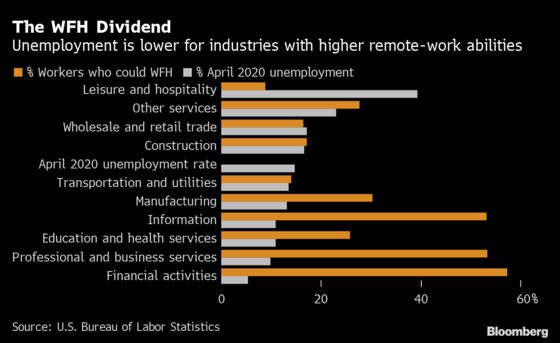 Financial, professional services and the information industry reported lower than average joblessness. Leisure and hospitality was more than double the April rate for all Americans. The only exception to the trend were jobs in industries deemed essential, such as construction, manufacturing and transportation and utilities.
Only 29% of U.S. workers can work from home. In April, the unemployment rate more than tripled to 14.7%.