Woodford Sequel Begins With Assets That Led to His Downfall
(Bloomberg) -- Fallen stock picker Neil Woodford is mounting one of the most unusual comebacks in investment history: He's seizing a second chance to manage a pool of assets at the center of his fund empire's collapse.
The manager has been picked by Acacia Research Corp. to run a portfolio of thinly traded holdings that the U.S. life sciences firm snapped up from Woodford's former investors at bargain prices. The assets will make up the cornerstone of a new biotech-focused strategy that Woodford plans to open up to other institutional investors.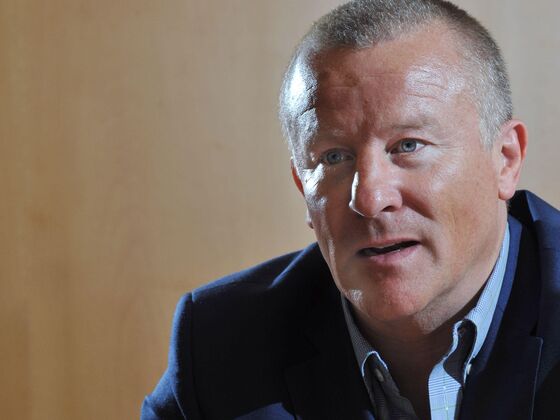 In a departure from his former approach that made him a cult figure among mom-and-pop investors in the U.K., Woodford is steering clear of retail clients in his new incarnation. Woodford's emphasis on unlisted and smaller quoted equities, many involved in biotech, eventually led to his undoing after he was unable to sell holdings to meet a mounting spate of withdrawals in 2019.
With his plan to stage a revival, Woodford is attempting an ambitious feat that has eluded legendary money managers such as Bill Gross and Anthony Bolton. Gross, once feted as Pimco's "Bond King" while running the world's biggest mutual fund there, returned with a vehicle at Janus Henderson Group Plc that failed to beat its benchmarks before his 2019 retirement. Anthony Bolton, who like Woodford was a darling of U.K. retail investors while at Fidelity Investment International, sought to reinvent himself with a China-focused fund in a comeback lasting less than four years after performing poorly.
"Woodford will always be a major red flag," said Bev Shah, founder of City Hive, an advocacy group in London that promotes diversity in the investment management industry. "I would be curious to know how this new entity would pass due diligence of any institutional investor or asset owner."
Woodford built his reputation by calling major swings in technology, tobacco and other stocks over two decades while at Invesco Ltd. He struck out on his own in 2014, taking many of his clients with him. Over time, Woodford started veering more into thinly traded, smaller companies -- a strategy that backfired when performance started faltering. As clients started to pull out in 2019, he was forced to freeze his LF Woodford Equity Income Fund because he couldn't meet redemptions.
In October 2019, he was ousted as manager of his flagship fund and announced he would shutter his investment firm, a stunning fall that counts as one of the most dramatic in London's financial history. More than a year later, the money is still in the process of being returned to investors, who appear set to lose more than 1 billion pounds ($1.4 billion).
Woodford will manage a familiar set of holdings as part of his new venture, including Immunocore, Oxford Nanopore Technologies Ltd. and Arix Bioscience Plc. Acacia purchased the portfolio for 224 million pounds from Woodford's now-liquidated fund, and the holdings are now worth around 690 million pounds as many of them benefited from a rally in healthcare stocks during the pandemic, according to a person familiar with the matter. For Woodford's former investors in the Equity Income Fund, though, the rebound comes too late: they've lost out on some 460 million pounds in returns from the rally after selling out at depressed prices.
Gina Miller, a campaigner on financial-services issues who runs her own investment firm called SCM Direct, waded into the fray after news of Woodford's plan. She called on the chairman and members of the Treasury Select Committee to launch an independent probe into the collapse of Woodford's fund. She also criticized an ongoing investigation by the U.K.'s Financial Conduct Authority as "woefully late and utterly meaningless".
"Too often the perpetrators of financial wrongdoing seem to slip off the hook, many to start up new lucrative operations while it is ordinary savers who suffer the brunt of this wrongdoing," Miller said. "It ought to be a very serious source of public policy concern that high profile individuals such as Mr. Woodford can be allowed to re-commence trading, with the slate ostensibly wiped clean."
Woodford declined to comment. In an interview with the Telegraph published on Sunday, Woodford rejected criticisms of his approach and said the decision to liquidate the fund by the administrator -- Link Fund Solutions -- was more damaging to investors. The decision to liquidate the fund was "considered to be in the best interests of all investors," a spokeswoman for Link said by email.
The FCA said in a statement late Tuesday that its investigation was "progressing" but had been hampered by the pandemic. It had also contacted the Jersey regulator following reports that Woodford's new business may operate from there.
"In taking any decision on whether to authorize a firm, we consider whether it is ready, willing and organized to comply, on a continuing basis, with our requirements and standards," Mark Steward, FCA's director of enforcement and market oversight, said in the statement. "That includes, for example, the sustainability of the firm's business model and the fitness of its management."
For Acacia, the appeal is that Woodford is uniquely positioned to oversee the portfolio given his familiarity with the companies.
"Neil Woodford has financed an extraordinary number of British life-sciences companies over the last 20 years" Clifford Press, Acacia's chief executive officer, said in a statement. "The scope of his involvement with these companies is unmatched in the U.K."
While he has experience in the U.K. life sciences industry, the new strategy is a move away from an approach that vaulted him to fame earlier in his career, with big picks like AstraZeneca Plc and British American Tobacco Plc. And not everyone is convinced that Woodford will be successful in winning a big base of new investors.
"Biotech is very exciting but it has quite a narrow constituency," Stuart MacDonald, who helps funds raise money as managing partner at Bride Valley Partners, said. "Is this where you would go if you want an exposure to this space in the first place?"