Philippines Seeks More Women for Police Force Where 4 of 5 Cops Are Men
(Bloomberg) -- In the Philippines where more than 83 percent of police officers are male, a legislation is being pushed to recruit more women.
A proposal to double the police's annual recruitment allocation for women was passed by the House of Representatives' committee on public order and has been endorsed for plenary approval, according to the Philippine National Police, which supports the measure.
The 190,000-strong force is authorized to hire 10,000 new cops annually. Under the law, only 10 percent of these positions are for women, leaving many aspiring females waiting for months or years to enter the force.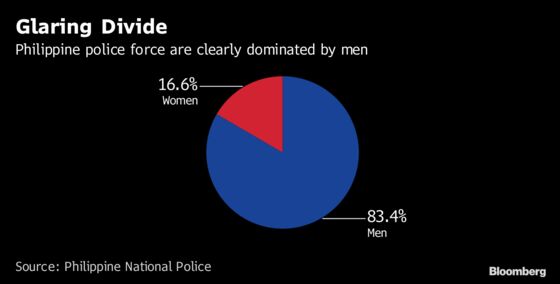 The women police service, which has been traditionally delegated to auxiliary functions, has been deactivated and its members integrated into the regular force, police spokesman Senior Superintendent Bernard Banac said in a statement. The police force has eased on gender restrictions on recruitment ahead of the legislation, he said.